'Arm twisting' & arbitrary embargos: Obama's foreign policy in 7 snapshots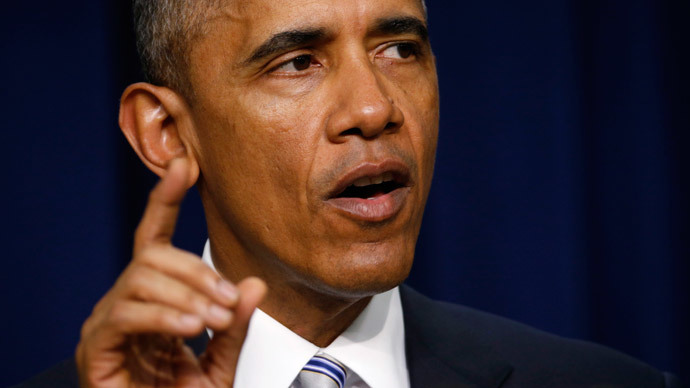 Nine months into Barack Obama's presidency, he received the Nobel Peace Prize for "extraordinary efforts to strengthen international diplomacy and cooperation". Six years on, has the 44th president of the United States lived up to his peacemaker laurels?
Humility and Power
"…our power alone cannot protect us, nor does it entitle us to do as we please… our security emanates from the justness of our cause, the force of our example, the tempering qualities of humility and restraint." - First inaugural address, January 2009.
"We're the largest, most powerful country on Earth… [America] is going to be the indispensable nation for the remainder of this century." - January 2015, interview with Vox magazine
Torture
"Will we reject torture and stand for the rule of law?" – Candidate Obama in a June 2008 speech in Berlin, Germany
August 2014 news conference: "We tortured some folks… We did some things that were contrary to our values."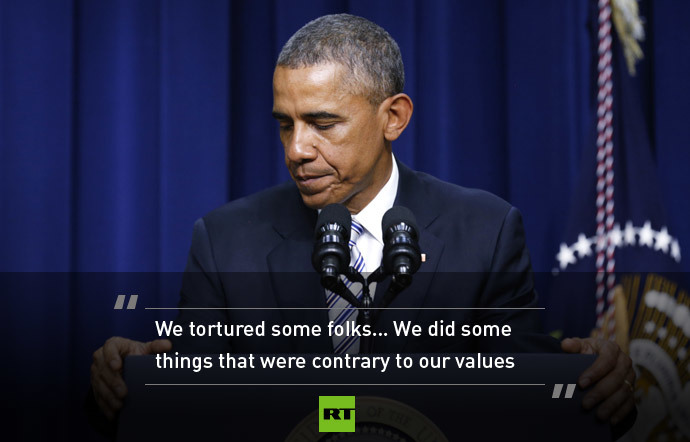 'Arm-Twisting'
"…might does not make right…Citizens, like nations, will never settle for a world where the big are allowed to bully the small. " – Speaking in Tallinn, Estonia, September 2014
"We occasionally have to twist the arms of countries that wouldn't do what we need them to do." – February 2015 interview with Vox magazine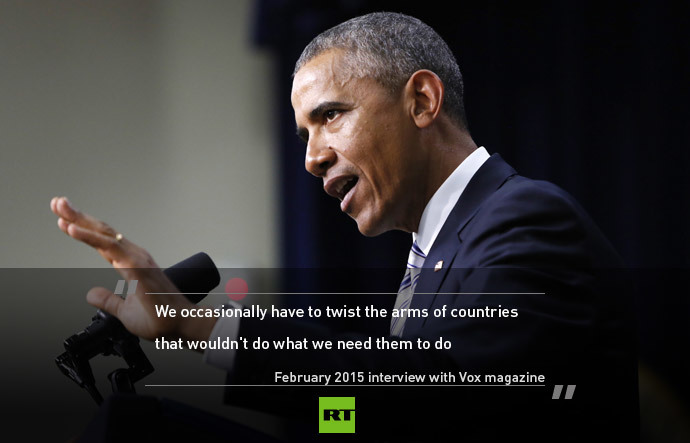 Embargoes don't work…Do they?
President Obama announced lifting the embargo against Cuba in January 2015, because "When what you're doing doesn't work for fifty years, it's time to try something new."
In the same speech, Obama boasted that "Russia is isolated with its economy in tatters," due to sanctions by the US and EU governments for alleged Russian "provocations" in Ukraine.
Decisions, decisions
"Ukraine must be free to decide its own destiny." – Barack Obama, speaking in Estonia in September 2014
READ MORE: 'F**k the EU': Snr US State Dept. official caught in alleged phone chat on Ukraine
Legitimacy to lead
"A leader who slaughtered his citizens and gassed children to death cannot regain the legitimacy to lead a badly fractured country." – Barack Obama at the UN General Assembly in September 2014, referring to President Bashar Assad of Syria.
"…since ultimately there is no military solution to this crisis, we will continue to support President Poroshenko's efforts to achieve peace." – Tallinn, September 2014
Petro Poroshenko's plan for peace in Ukraine:
International law matters?
Addressing an EU youth conference in Brussels, in March 2014, Obama said: "in the 21st century, the borders of Europe cannot be redrawn with force … international law matters."
READ MORE: Exposed: Obama states Kosovo left Serbia only after referendum, but there was NO referendum
Partner, not policeman
Secretary of State John Kerry introduced President Obama at the Summit to Counter Violent Extremism as someone who has "consistently sought to act not as the world's policeman, but as the world's partner."
While he doesn't have the option of "simply invading every country where disorder breaks out," the overall goal "is a world in which America continues to lead," Obama told Matthew Yglesias of Vox magazine.
You can share this story on social media: