Gaffe-prone Psaki moving to the White House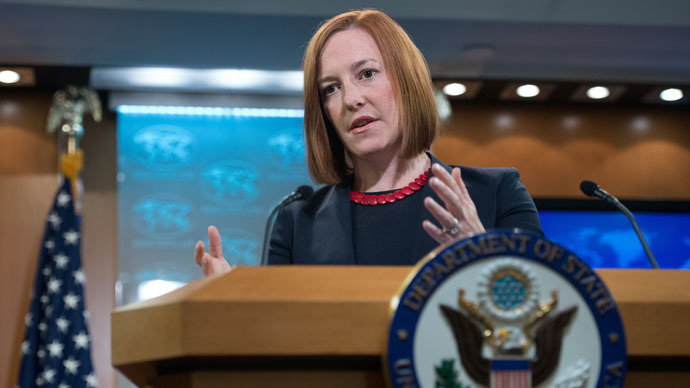 State Department briefings are about to get a lot less fiery, with spokeswoman Jen Psaki, famous for sparring with reporters, geographic gaffes and policy blunders announced she will be moving to the White House in April.
AP diplomatic correspondent Matt Lee, who frequently grilled Psaki at State Department briefings, noted that she would be missed by the press corps and her "legion of fans around the world."
Lee was most likely referring to many Russians, who have made "Psaki" into a household term mocking US foreign policy, thanks to the State Department's spokeswoman often outlandish claims about the alleged "Russian aggression" in Ukraine.
Or he could have been referring to Egyptians, perplexed by her non-statement about the trial of deposed president Hosni Mubarak last December. "What you said says nothing!" Lee said, protesting her obtuse language. Psaki actually agreed after the conference ended, perhaps forgetting her microphone was still one, saying "that Egypt line was ridiculous."
Read more: US 'ridiculous' line on Egypt? Jen Psaki caught on hot mic
Though the Russian public frequently mocked her in the social media, they banded together in a campaign to #SavePsaki when they mistakenly assumed she had been fired last summer. A popular comedy show on Russia's NTV network is called "Psaki at Night," with the host Mikhail Gendelev often satirizing Western diplomats while a framed photo of Psaki hangs above his desk.
Read More: State Dept Sideshow: Jen Psaki's most embarrassing fails
Meanwhile, Psaki's departure from State leaves Marie Harf as her likely replacement.
Really harfed that one. RT @APDiploWriter Obama picks State Department's Psaki to lead White House communications team

— Matthew DesOrmeaux (@cynicusprime) February 19, 2015
You're reporting it wrong. Jen Psaki will be the new Hashtag Director @MelissaTweets@BretBaier@CuffyMehpic.twitter.com/t4KFvHBGjY

— Arpit Chauhan Ⓥ (@Arpit_Chauhan) February 19, 2015