Nano 'drones' could help prevent certain type of heart attack - study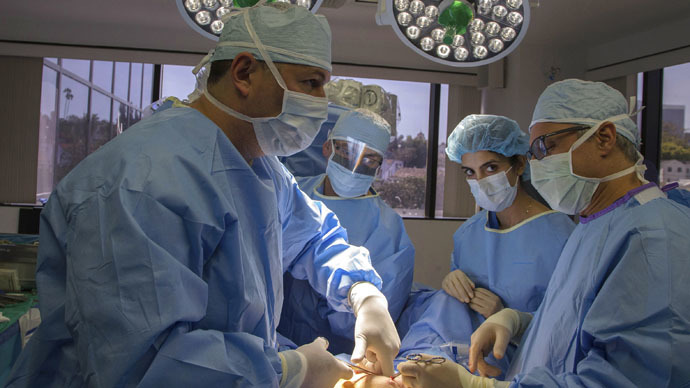 Targeted nanomedicines 1000 times smaller than the tip of a human hair may be able to deliver anti-inflammatory drugs to arterial fat deposits in order to combat atherosclerotic plaque buildup, thus preventing heart attack risk, according to a new study.
The study, which entailed the deployment of biodegradable drone-like nanomedicines to restructure and stabilize atherosclerotic plaque within coronary arteries, was conducted by researchers at Brigham and Women's Hospital (BWH) and Columbia University Medical Center.
Atherosclerosis of the coronary arteries is the top killer of both men and women in the US, responsible for one in four deaths, according to a Columbia University Medical Center press release.
The research was first published Wednesday in the online issue of Science Translational Medicine.
"This is the first example of a targeted nanoparticle technology that reduces atherosclerosis in an animal model," said co-senior author of the study, Omid Farokhzad, MD, associate professor and director of the Laboratory of Nanomedicine and Biomaterials at BWH and Harvard Medical School.
"Years of research and collaboration have culminated in our ability to use nanotechnology to resolve inflammation, remodel and stabilize plaques in a model of advanced atherosclerosis."
The targeted nanomedicines were made to carry anti-inflammatory drugs by way of a biomimetic peptide derived from a natural human anti-inflammatory protein, Annexin A1. The nanomedicines were designed for controlled release of the drugs at the site of atherosclerotic plaque.
Mice with atherosclerosis that were given the nanomedicines were found to have repaired arteries and stabilized plaque after five weeks of treatment, the researchers said.
The trials yielded, in the mice models, "a reduction of reactive oxygen species; increase in collagen, which strengthens the fibrous cap; and reduction of the plaque necrotic core, and these changes were not observed in comparison with the free peptide or empty nanoparticles."
"We observed a clear benefit from the nanomedicine that led to to a stabilized plaque that, similar to the condition in humans, would be less likely to rupture and cause heart attacks," Farokhzad said. "Additionally, we observed drastic changes in key clinical hallmarks of advanced atherosclerosis."
The researchers warned that mice do not have heart attacks, and that testing on humans will involve reconfiguring the nanoparticles appropriately, with more potent drugs. Researchers also cautioned that simply treating inflammation is not enough.
"Atherosclerosis is not only inflammation; there's also damage to the arterial wall. If the damage isn't repaired, you may not prevent heart attacks," said Columbia associate research scientist Gabrielle Fredman, PhD, a co-author of the study.
BWH researchers engineered the tiny, "sticky" surface nanomedicines used in the study.
"These nanomedicines are developed using biodegradable polymers that can break-up over time in the body using the bodies natural mechanisms, and can be nanoengineered using scale-able chemistries and nanotechnologies, which ultimately can facilitate their rapid translation to the clinic," said co-lead author of the study, Nazila Kamaly, PhD, of the Laboratory of Nanomedicine and Biomaterials at BWH and Harvard Medical School.
Farokhzad's team has also applied nanotechnologies to control drug release for cancer treatments in human test patients, and to deliver a targeted vaccine "capable of orchestrating an immune response to facilitate smoking cessation and relapse prevention."
You can share this story on social media: