​Two of FBI's 'Cyber Most Wanted' caught in Pakistan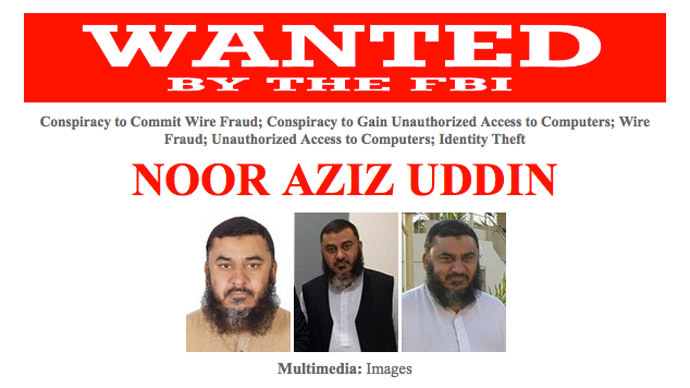 Two individuals named on the Federal Bureau of Investigation's most-wanted list of suspected cyber criminals have been captured by authorities in their native Pakistan, according to local officials.
Farhan Arshad and Noor Aziz Uddin were both apprehended in Karachi during a pre-dawn raid on Saturday, an official with the Federal Investigation Agency — Pakistan's equivalent to the FBI — told reporters.
Authorities in the United States say that Arshad and Uddin were involved in an international crime ring that scammed telecommunication companies out of an estimated $50 million between 2008 and 2012. Federal arrest warrants were made out for the pair in 2012, and in 2013 their names were added to the FBI's "Cyber's Most Wanted" list along with a reward bounty of $50,000 apiece.
"They were on the most wanted list of the FBI and we have successfully arrested them," Mir Mazhar Jabbar, a senior official with FIA, confirmed to Agence France-Presse over the weekend.
Pakistan's the Nation reported that both men were wanted by Interpol as well.
According to regional media reports, the FIA-led raid allowed authorities to apprehend both suspects and Uddin's two sons. India's PTI newswire reported that Uddin was arrested for cyber-crimes committed on Pakistani soil, and acknowledged that he was wanted in America and abroad.
Both Arshad and Uddin had previously been arrested by Malaysian authorities in 2012, but were repatriated to Pakistan where American-led extradition efforts failed, according to a report published then by Free Malaysia Today.
Press representatives at FBI headquarters and the bureau's Newark, New Jersey field office where their arrest warrants were issued in 2012 didn't immediately respond to RT's requests for comment, and it's not yet clear if the FBI will again seek either man's extradition.
Arshad and Uddin are each wanted in the US on charges of wire fraud, unauthorized access to computers and identity theft, among others. The FBI said they ran a scheme that stretched across Pakistan, the Philippines, Saudi Arabia, Switzerland, Spain, Singapore, Italy and Malaysia that milked millions from "unsuspecting individuals, companies and government entities, to include large telecom companies."
American authorities say Uddin operated LinkedTel, a business that purported to provide customers with premium telephone services, such as adult entertainment, chat lines and psychic hotlines, through which he employed Arshad as his business manager. According to federal indictment filed in the US, those calls were placed using hacked telephone systems belonging to large corporations that had become compromised.
"The scheme involved the theft of long distance telephone services, either through the theft of cell phone service or through a process known as 'PBX hacking,'" the Justice Department said in a 2013 statement when a co-defendant in the case, German citizen Wolfgang Uelpenich, pleaded guilty to his role in the plot. The statement went on: "Hackers targeted PBX (Private Branch Exchange) telephone systems of corporations and placed calls to those systems in an attempt to identify telephone extensions that are not in use. Once an unused extension was identified, hackers illegally reprogrammed the telephone system. The hacked telephone system could then be used by the hackers and others to make long distance telephone calls that are charged back to the victim corporation, creating virtually free telephone lines through which they could make calls."
"As a result of the conspiracy, telephone companies and the hacked entities lost tens of millions of dollars due to more than 13 million minutes of telephone calls over 4,800 hacked PBX systems," the DOJ said.
Both Arshad and Uddin remained on the Cyber's Most Wanted list maintained by the FBI as of Tuesday morning this week, alongside five members of the People's Liberation Army of the of the People's Republic of China and other suspected computer criminals.
You can share this story on social media: