'Biggest failure'? Obama aide regrets not securing UFO files disclosure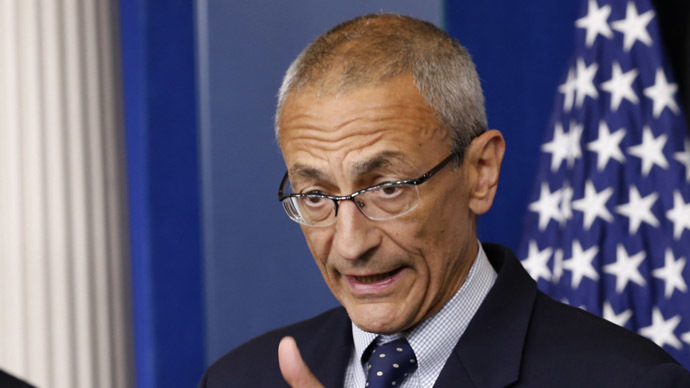 Outgoing senior US presidential adviser John Podesta has revealed that the main regret of the past year of his service at the White House was keeping Americans away from learning the truth about UFOs.
READ MORE: 'It was us': CIA 'fesses up on UFO sightings in 1950-60s
Law professor Podesta, 66, published in his Twitter microblog on Friday – his last day as Obama's counselor with a special interest in climate and energy matters – a list of his "favorite memories" of the year, concluding with his biggest regret that once again proves his fascination with aliens and TV show "The X-Files", of which he is known to be a huge fan.
1. Finally, my biggest failure of 2014: Once again not securing the #disclosure of the UFO files. #thetruthisstilloutthere cc: @NYTimesDowd

— John Podesta (@Podesta44) February 13, 2015
Podesta has been a longtime proponent of the disclosure of government UFO investigations to the public. Back in 2002, at a press conference organized by the Coalition for Freedom of Information, he said: "It's time to find out what the truth really is that's out there. We ought to do it, really, because it's right. We ought to do it, quite frankly, because the American people can handle the truth. And we ought to do it because it's the law."
READ MORE: Sanskrit shocker! Claims of 7,000yo inter-planetary planes shake up Indian Science Congress
In 2007, a Washington Post journalist asked Podesta about reports on Freedom of Information Act requests to obtain email correspondence to and from the former chief of staff on such terms as "X-Files" and "Area 51" – terms, popular with UFO conspiracy theorists. Podesta's response through a spokesperson was, "The truth is out there," the tagline for "The X-Files" American science fiction TV show.
Podesta is also an author of an introduction to the 2010 book "UFOs: Generals, Pilots, and Government Officials Go on the Record." In it, he wrote: "As someone interested in the question of UFOs, I think I have always understood the difference between fact and fiction. I guess you could call me a curious skeptic. But I'm skeptical about many things, including the notion that government always knows best."
My last day as Counselor to President Obama. It's been a tremendous privilege to serve a great President and the country for this last year.

— John Podesta (@Podesta44) February 13, 2015
Now, leaving the White House, where he also previously served as Bill Clinton's chief of staff, Podesta is reportedly set to join Hillary Clinton's presidential campaign as a senior adviser in the run-up to Barack Obama's second term ending in 2016.
7. BIGGEST feat: Expanding Pacific Remote Islands monument. Now 2x size of Texas! That's a lot of happy sea turtles pic.twitter.com/lNqXD67GmI

— John Podesta (@Podesta44) February 13, 2015
You can share this story on social media: