​Megaupload programmer gets 1yr in prison for role with Dotcom's site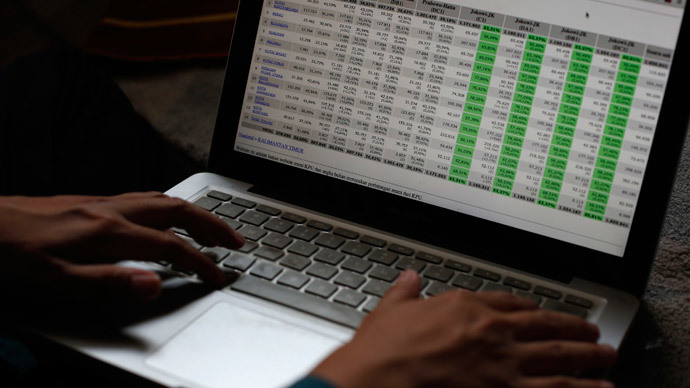 An Estonian computer programmer for the now defunct file-sharing site Megaupload has been sentenced to a year and a day in federal prison less than a week after he unexpectedly arrived in the United States upon reaching a plea agreement with prosecutors.
Appearing in a dark jumpsuit inscribed with the word "prisoner," Andrus Nomm, 36, pleaded guilty before a judge in the Eastern District Court of Virginia in Alexandria on Friday morning to one count of conspiracy to commit copyright infringement, in turn resolving for him a three-year-plus legal battle that began with the unsealing of a 13-count criminal indictment against Megaupload and its executives in early 2012.
BREAKING: Megaupload programmer Andrus Nomm pleaded guilty to conspiracy to commit copyright infringement and was sentenced to 1yr, 1 day.

— Andrew Blake (@apblake) February 13, 2015
Prosecutors have long alleged that Nomm and a half-dozen other former Megaupload employees participated in a "worldwide criminal organization" that engaged in copyright infringement and money laundering on a massive scale by operating a website that made copies of movies, music and other protected works available online without authorization and then rewarded the individuals who provided that content with cash bonuses.
Nomm was brought to the US on Monday and apprehended pursuant to the arrest warrant issued more than three years earlier. The Associated Press reported that a Nomm, a resident of both Estonia and Turkey, had agreed to a plea deal with prosecutors, but the most recent court filing in the case – a document dated Thursday – remained under seal as of Friday afternoon, obscuring for now the latest details from the public.
"This conviction is a significant step forward in the largest criminal copyright case in US history," Assistant US Attorney General Caldwell said in a statement after Friday's hearing. "The Mega conspirators are charged with massive worldwide online piracy of movies, music and other copyrighted US works. We intend to see to it that all those responsible are held accountable for illegally enriching themselves by stealing the creative work of US artists and creators."
The US government shut down Megaupload in January 2012 and issued arrest warrants for its founder, German-born internet tycoon Kim Dotcom, and six others: Finn Batato of Germany, Julius Bencko of Slovakia, Sven Echternach of Germany, Mathias Ortmann of Germany, Bram van der Kolk of the Netherlands and Nomm. A criminal complaint filed against the men that same month accused them of involvement in a "mega conspiracy" that had generated millions of dollars for the website through subscription sales and advertisement revenue, the likes of which the government said was only made possible by providing a service that unlawfully afforded customers access to copyrighted materials.
The US Justice system: An innocent coder pleads guilty after 3 years of DOJ abuse, with no end in sight, in order to move on with his life.

— Kim Dotcom (@KimDotcom) February 13, 2015
Members of the so-called "mega conspiracy" were initially charged with more than a dozen counts, including conspiracy to committee racketeering, conspiracy to commit money laundering, criminal copyright infringement and wire fraud. With the exception of Nomm, however, all co-defendants have so far defied US-led attempts for extradition and avoided thus far standing trial in the US.
In a 2012 court filing, federal prosecutors identified Nomm as the lead programmer of Megaupload's development software division and said he had been paid $100,000 during 2010 for providing web coding and maintenance, among other services, pertaining to the file-sharing website and similar projects launched by Dotcom and associates, including Megavideo.com. In all, Megaupload is suspected of having generated more than $165 million in criminal proceeds, according to the Justice Department, and has caused more than half a billion dollars in potential lost profits to copyright owners.
Prosecutors alleged in 2012 that "members of the xonspiracy reproduced copyrighted works directly from third-party websites, including from YouTube.com, to make them available for reproduction and distribution on Megavideo.com., and to create the false impression that Megavideo.com hosted primarily user generated content instead of copyright infringing content." Additionally, the government said that the means advertised by Megaupload with regards to its process for removing infringing content from its computer servers failed to satisfy the safe harbor provisions included in the Digital Millennium Copyright Act, or DMCA — the US law concerning protected works on the web.
The AP reported Friday that a statement of facts agreed to by Nomm suggests he told the government that Dotcom "did not care about protecting copyrights in the operation of the Mega sites."
I have nothing but compassion and understanding for Andrus Nomm and I hope he will soon be reunited with his son.

— Kim Dotcom (@KimDotcom) February 13, 2015
According to the AP, Nomm acknowledged to the court that he told his supervisor that he could "implement an automatic system for finding copyright-infringing files on Megavideo.com and flag them for review by an auditor," but that idea was rejected. Nomm also acknowledged that "many of the auditors did not even know what copyright was," according to the newswire.
In a statement, the Justice Department said Nomm admitted to the court that he "was aware that copyright-infringing content was stored on the websites, including copyright protected motion pictures and television programs, some of which contained the 'FBI Anti-Piracy' warning," and "also admitted that he personally downloaded copyright-infringing files from the Mega websites."
"Despite his knowledge in this regard, Nomm continued to participate in the Mega Conspiracy," the DOJ said.
Ira Rothken, a US-based lawyer for Dotcom, took issue with Friday's news but appeared optimistic about what impact, if any, it will have on his client's case.
"Andrus Nomm, a programmer, was hardly mentioned in the indictment. The DOJ apparently used Andrus Nomm's weak financial condition and inability to fight back to manufacture a plea deal publicity stunt in court to try to legitimize their concocted criminal copyright case," Rothken told RT's Andrew Blake in an statement Friday. "The facts read off in court sound like the civil allegations against YouTube and YouTube won. If Andrus Nomm cooperates with the DOJ and testifies truthfully including things like the Megaupload copyright neutral software code and robust notice and takedown policies, it will likely help the defense."
Although further details of the plea agreement are not yet clear, Rothken said: "It appears to allow the government to obtain testimony from Andrus Nomm under threats of an increased sentence if they take issue with his level of cooperation."
In addition to the year-and-a-day sentence handed down this week, Nomm will also serve three years of supervised release and pay a $100 special assessment fee. According to the judge, he will be credited with the time he served in custody this week after arriving in Virginia, as well as time spent in a Netherlands jail after he was arrested in 2012 in concert with the shutdown and seizure of Megaupload.
Dotcom did not immediately respond to requests for comment. According to the Justice Dept., he and Ortmann, Van der Kolk and Batato are scheduled to attend an extradition hearing in New Zealand in June. Bencko and Echternach, meanwhile, are still at large.
"Today one conspirator who infringed upon the work of countless artists, actors and musicians takes responsibility for his actions," Andrew McCabe, the assistant director in charge of the FBI's Washington Field Office, said Friday. "We continue to pursue his co-conspirators until they face justice in the American legal system."
You can share this story on social media: