US TV show runs story on how to safely find parking in wake of Chapel Hill Muslim killings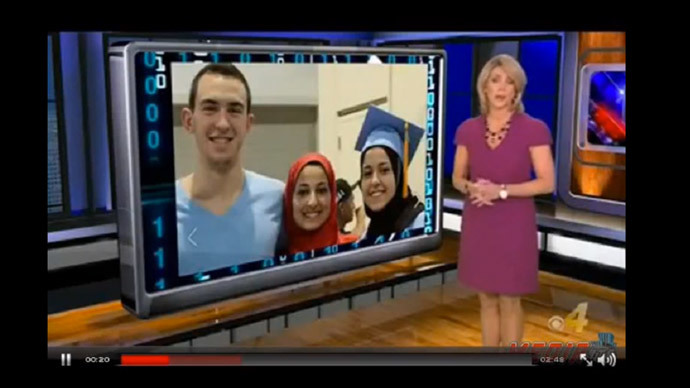 An American Inside Edition TV show has produced a report on how to 'safely' find a parking spot after the nation was shocked by the killing of three Muslim students in what their relatives believe was a hate crime.
The Inside Edition show, produced by CBS Television Distribution, decided to make the report following the deadly shooting of three Muslim students in Chapel Hill, North Carolina, allegedly by their neighbor, Craig Hicks, in an apparent dispute over parking spots. Police do not believe the murders were motivated by race or religious hate. However, the relatives of the deceased think otherwise.
Social media has been up in arms at the program and its host, Deborah Norville, after Inside Edition, a 30-minute news magazine program, showed a report on how to avoid road rage and confrontations when looking for a parking place.
One Facebook user, Fatima Rahimi said, "They could have mentioned their names, maybe say something about all the good they've done.. Or at least passed on their condolences to the victims friends and family- instead they thought parking spaces deserved more attention [sic]."
Seriously?? @CBS 's @InsideEdition exploited the #ChapelHillShooting as a segue for a segment on how to find parking http://t.co/245ZTNuqej

— Nunya Dambiz (@doubledouble416) February 13, 2015
Norville, can be heard saying, "Finding a parking space can be one of the things that pushes people over the edge, but there is always a way to find a spot at the mall. "
Numerous internet users also took to Twitter to make their feelings known, and words such as "offensive," "outrageous," and "speechless" are some of the more printable reactions to Inside Edition's report.
Inside Edition used the Chapel Hill murders to set up a segment on finding parking at the mall. I wouldn't expect anything more.

— Shabnam (@SmahmoodS) February 13, 2015
Condemnation of the report has been widespread, with Twitter users of all races and faiths showing their disgust at the show on CBS.
Unbelievable! Cheap TV "Inside Edition" uses death of 3 Muslim students in NC as way to introduce section on parking! http://t.co/k5YOBpEzTN

— Louis Fishman (@Istanbultelaviv) February 13, 2015
One Twitter user called Bushra, said, "This is by far the most tasteless story ever featured on your show. I am disgusted."
Another, 'Shabman' was equally scathing at the program. "Inside Edition used the Chapel Hill murders to set up a segment on finding parking at the mall. I wouldn't expect anything more."
.@InsideEdition This is by far the most tasteless story ever featured on your show. I am so disgusted. http://t.co/aaEBtLUd2g

— Bushra. يا بشرى (@bushrati) February 13, 2015
The report starts by showing a number of YouTube Videos of car drivers losing their cool over parking disputes. It then advises drivers to 'stalk' shoppers returning to their cars after a shopping trip, as this may lead to a spot being freed up.
Deah Shaddy Barakat, 23; his wife, Yusor Mohammad Abu-Salha, 21; and her sister, Razan Mohammad Abu-Salha, 19, were shot in the head on Tuesday, February 10.
Racially motivated crime?
The father of the two girls, psychiatrist Dr. Mohammad Abu-Salha, told the Raleigh News & Observer that, while parking may have been the catalyst for Tuesday's events, the shooter had an underlying animosity towards his daughters and son-in-law based on their religion and culture.
READ MORE: Family of slain Muslims calls Chapel Hill shooting 'absolutely… domestic terrorism'
"It was execution style, a bullet in every head," Abu-Salha said Wednesday morning. "This was not a dispute over a parking space; this was a hate crime. This man had picked on my daughter and her husband a couple of times before, and he talked with them with his gun in his belt. And they were uncomfortable with him, but they did not know he would go this far."
"Neighbors Say Suspect in Chapel Hill Shootings Was Threatening" by JONATHAN M. KATZ and M… http://t.co/9HVvEl1ZXLpic.twitter.com/qOEZ9HPKTL

— Amit Kishore (@AmitKishore) February 13, 2015
The grieving father said that one of his daughters had told the family a week ago that she had a "hateful neighbor."
"Honest to God, she said, 'He hates us for what we are and how we look,'" he said. Both women wore hijabs, the traditional Muslim headscarf.
People have donated $300,000 to a fundraiser set up by one of the #ChapelHillShooting victims http://t.co/UHDizcio3Zpic.twitter.com/sfV7vPL919

— waleed10 (@willy_salah123) February 13, 2015
The gunman Craig Hicks turned himself into police and is being charged on three accounts of first degree murder. The 46-year-old was a self-described atheist, who regularly posted content critical of religion on his Facebook page.
READ MORE:Chapel Hill shooting: 3 Muslims gunned down in N. Carolina
Despite police suspecting the murders occurred because of a parking dispute, the FBI has opened a preliminary inquiry into whether or not any federal laws were broken related to the case, Reuters reported. Those laws could include civil rights violations or the committing of a hate crime.
"[Hicks] used to see them walking into the apartment complex and have his hand on a very visible gun in a holster," said Linda Sarsour, a family spokeswoman and executive director of the Arab American Association of New York, who spoke to RT. "And that plus very interesting social media posts, seems he's a very extremist anti-atheist, so he's very anti- any religion or anti-religious people."
READ MORE:Hate crimes against Muslims in US have skyrocketed during 'war on terror'
Since September 11, 2001, anti-Muslim hate crimes have consistently stayed anywhere from 100 to 150 in number per year. Of all hate crimes; anti-Muslim offenses make up about 2 percent.
Before 9/11, though, the FBI says there were only about 20 or 30 anti-Muslim hate crimes per year.
You can share this story on social media: