'We'd be terrorists': US could destroy ISIS only by turning Iraq, Syria into 'molten glass' – Congressman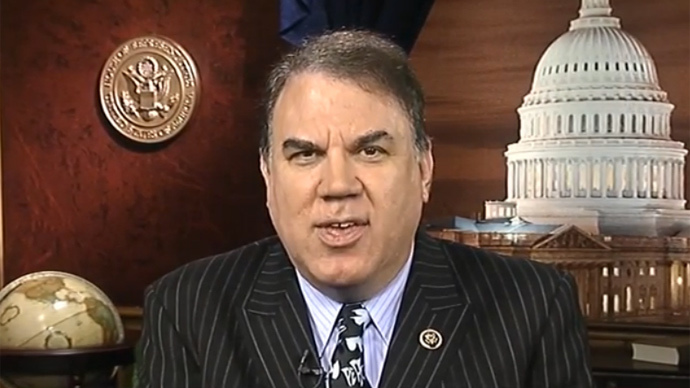 There is no morally acceptable way for the US to battle Islamic State militants and it should be wary of becoming like the terrorists it's fighting, Rep. Alan Grayson (D-Fla.) told RT.
Speaking with Thom Hartmann on "The Big Picture," Grayson cited House Minority Leader Nancy Pelosi (D-Calif.) and cast doubt on the overall strategy against the Islamic State, also known as ISIS or ISIL.
READ MORE: 20,000 foreigners have joined ISIS in Iraq, Syria – reports
"As Leader Pelosi often says, 'Everyone thinks that one more act of violence will end violence for all time, and it never does,'" he said. "In fact, there is no way to win this that is something that we would regard as even acceptable to us on a moral level."
"Of course we have the ability to go ahead and destroy ISIS – we could turn Iraq and Syria into molten glass. But that's something that's beneath us. That's something that shows that the terrorists would have won, because at that point, we would be them."
Grayson also questioned the wisdom of further entangling the US in an ongoing conflict between Sunnis and Shias Muslims that goes back over a thousand years.
"Are we willing to involve ourselves in a 1,200-year civil war to the point where we win for one side or the other, or do we simply say, 'It's not our problem?'"
Grayson's comments came after militants took control of major parts of al-Baghdadi, a town in western Iraq only 13-minutes drive from a military base where 320 US Marines are training Iraqi soldiers. According to Reuters, the town was attacked from two directions before fighters were able to take control of as much as 90 percent of the area.
READ MORE:Obama asks for '3yrs, no territorial limits' formal war authority to target ISIS
Additionally, officials said another group of militants actually attacked the neighboring al-Asad base, but the assault was unsuccessful. "There were reports of ineffective indirect fire in the vicinity of the base," a Pentagon official told Reuters, though she said there was no direct attack.
To combat the militants, who have taken over large portions of western and northern Iraq, President Obama recently asked Congress to officially authorize the use of force against the group for a three-year time period. The proposed resolution would offer "flexibility" regarding the use of American ground forces, but place a ban on "enduring offensive combat operations." It would also allow the US target groups associated with the Islamic State and not impose specific geographic limitations on the use of force.
You can share this story on social media: