American Sniper & 'dehumanizing' media targets in Chapel Hill aftermath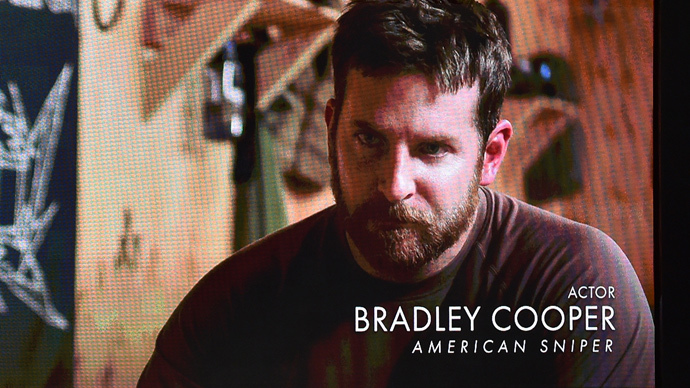 A top Arab-American civil rights organization linked anti-Islam sentiment in the US to the popularity of 'American Sniper,' while a friend of the Chapel Hill shooting victims blamed media for "constantly dehumanizing Muslims."
Abed Ayoub, the legal director of the American-Arab Anti-Discrimination Committee, told The Independent in the United Kingdom that Islamophobia in the United States is encouraged by US foreign policy, the movie industry, and right-wing media.
READ MORE: Hate crimes against Muslims in US have skyrocketed during 'war on terror'
"[The North Carolina murders] may not be directly linked to the film, but the overall way that Islamophobia and anti-Arab sentiment are moving in this country is portrayed in the words of those who watched American Sniper," Ayoub said.
Arab advocate says American Sniper is 'behind rise in Islamophobia in US' #ChapelHillShootinghttp://t.co/FMqePZresupic.twitter.com/YqbZE83Y58

— The Independent (@Independent) February 12, 2015
"The film gave us a look into how these individuals were feeling and for the first time we were getting raw, real messages – and they were frightening."
American Sniper is the largest-grossing January opening for a movie in history. and is nominated for six Academy Awards, including best picture.
Former navy SEAL Chris Kyle, on whose memoirs the movie is based, wrote "I hate the damn savages. I couldn't give a flying f**k about the Iraqis." He was killed by a former Marine at a shooting range in Texas in 2013.
READ MORE: 'American Sniper' sparks anti-Muslim hatred online – civil rights group
Ayoub also points to coverage of the Chapel Hill slayings, which he sees as muted or altered based on the victims' religion.
"This country needs to realise that acts of terrorism are not confined to a single religion or ethnicity," he added. "This [Islamophobia] is something that needs to stop and we would like the media to pay more attention and cover this more to show the impact of hate crime and hate speech."
Great job guys, really excellent. Please keep up the journalistic integrity. @CNN@ABC@FoxNews@CBS@nbc#ChapelHillpic.twitter.com/0Hwsj8JhNj

— Adham Kassem (@Adham_Kassem) February 11, 2015
How the government approaches Muslims, and how Muslims are covered in the mainstream media must change, Ayoub said.
"There are key individuals who could tone down the Islamophobic rhetoric," he said. "You have people on the extreme right that just push that Islam is an evil religion and Muslims and Arabs are these evil people.
The murder of three Muslim university students in Chapel Hill, North Carolina on Tuesday was unlikely a religiously-motivated hate crime, local police have said, though they have vowed to investigate all possible angles involved.
Murder suspect Craig Stephen Hicks was the neighbor of Deah Barakat, 23, his wife Yusor Mohammad Abu-Salha, 21, and her sister Razan Mohammad Abu-Salha, 19. Their conflict is said to have stemmed from issues over parking outside their apartment complex.
#FoxNews is directly responsible for the murdering of the 3 muslim students in #USA#ChapelHill#ChapelHillShootingpic.twitter.com/MQUA7pfJ5s

— MahyarAhmadi (@MahyarAhmadi) February 12, 2015
The victims' family, however, disagreed with police, calling it a clear "hate crime" and an "execution."
Shafi Khan, a friend of the students, told CNN Wednesday that some American media and right-wing politicians, including Louisiana Gov. Bobby Jindal, intentionally fan flames of anti-Muslim hatred.
"There is (sic) certain sections of the media and political apparatus that are constantly dehumanizing Muslims," he said. "I want to take a minute to ask people like Fox News and Bobby Jindal to stop this dehumanization of Muslims. It's really, really starting to take a toll."
Jindal has repeatedly voiced discriminatory or outright bogus claims about Muslims, most recently when he said Muslims are trying to "conquer us," and that the US is at risk for Islamic Sharia law "colonization" and "an invasion."
Khan also called out Oklahoma state senator John Bennett who called Islam "a cancer that needs to be cut out of society."
"And the Republican Party establishment, instead of condemning him, came out and made a point of saying they stand by him," Khan said.
"These people need to reflect sincerely about what they're doing to the social cohesion of this country. Imagine if someone had said that about the Jewish community."
@BBCNews@PressTV@CNN@FoxNews@DailyMailUK Y SILENT ON CHAPEL HILL KILLINGS #JeSuisChapelHill#ChapelHillShootingpic.twitter.com/LLENnggFfV

— WOBBLER BUSTERS (@wobblerbusters) February 11, 2015
You can share this story on social media: