New York rookie cop pleads not guilty in shooting of unarmed man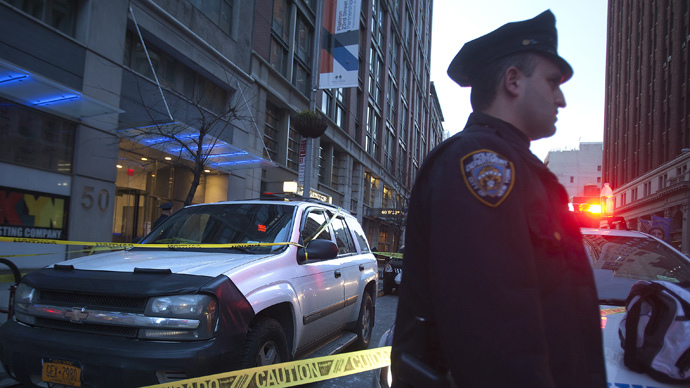 Peter Liang, an NYPD rookie officer, accused of fatally shooting an unarmed Brooklyn man Akai Gurley in the stairwell of a local apartment complex last year, has pleaded not guilty to manslaughter and all other charges.
The officer arrived in Brooklyn Supreme Court on Wednesday after the jury issued a six counts indictment against him. The charge included second-degree manslaughter, second-degree assault and criminally negligent homicide, a misdemeanor count of reckless endangerment and two counts of official misconduct. The defendant faces up to 15 years of imprisonment if found guilty.
Here is the full list of charges Liang faces in the death of Akai Gurley. Story soon via @Brooklyn_Paperpic.twitter.com/e3tcRL6uWW

— Noah Hurowitz (@NoahHurowitz) 11 февраля 2015
Peter Liang pleaded not guilty to all the indictments. He has not testified before the jury yet.
"This is the first step in justice," Kimberly Ballinger, Gurley's child's mother, said. "Now all we need is a conviction, which I have faith that we will get."
Liang's victim Akai Gurley, 28, was killed last November 20 when he and his girlfriend Melissa Butler were entering a staircase on the seventh floor in Pink House project in Brooklyn late in the evening. Two policemen, Peter Liang and his partner Shaun Landau came down from the eighth floor as they were doing a top-to-bottom patrol. Liang, a rookie policeman, fired a shot in Gurley's chest without a warning, according to Butler.
READ MORE: 'Totally innocent' unarmed 28yo 'accidentally' shot dead by NYPD police
The policemen did not try to help the victim but continued arguing what to do. They also did not report the event at once.
The main charge is second-degree manslaughter, as prosecutors must prove that Liang consciously ignored the risk of using the gun. According to Liang, he fired accidentally. During the procedure, the prosecutor alleged that Liang had not passed the compulsory special training, which disciplines an officer not to place their finger on the trigger unless faced with a threat.
The indictment follows mass protests against police brutality and previous grand jury decisions involving police officers including the cases of Michael Brown in Missouri and Eric Garner in New York when no indictments were handed down.
READ MORE: No indictment: Clashes, arson after grand jury verdict for Ferguson cop
Protestors outside #DowntownBrooklyn courthouse awaiting #NYPD officer Peter Liang's indictment #AkaiGurleypic.twitter.com/tutvd9GjBd

— Crystal Walker (@CWalkerNews12) 11 февраля 2015
"The only thing we know for sure is there was a human tragedy involving Mr. Gurley," New York Mayor Bill de Blasio said. "He's gone. I spent time with his domestic partner and his child. They've lost a loved one. That's a fact. That's a tragedy. But everything else has to be determined through a judicial process."
You can share this story on social media: