Apple set to battle Tesla with California mystery van?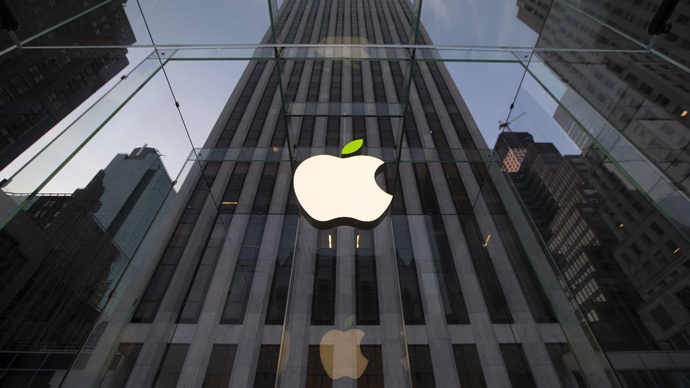 A camera-mounted van seen driving around San Francisco – and registered to Apple – has raised speculation that the iPhone maker is preparing to take on electric car producer Tesla with a mysterious new product.
First spotted by Claycord blog, the vehicle is an unlabeled Dodge minivan with a four-camera rig mounted on the roof. The Department of Motor Vehicles confirmed to Local CBS affiliate KPIX that the Dodge Caravan was leased to Apple.
Some suggest the news indicates the company is jumping into the driverless car space, though the reality is less clear.
READ MORE:Tesla rival, 3D-printed car make waves at Detroit Auto Show (VIDEO)
For starters, Apple has not been issued a testing permit for such a vehicle. The company could be collaborating with one of the groups with a permit – Google, Stanford University, or Carnegie Mellon University, for example – but Apple itself did not confirm reports that it is developing self-driving technology.
An email from an unnamed company employee to Business Insider, however, said that Tesla employees are "jumping ship" to work in "vehicle development" at Apple.
"Apple's latest project is too exciting to pass up," the person wrote. "I think it will change the landscape and give Tesla a run for its money."
Business Insider found that Apple has about 50 employees who previously worked at Tesla, according to LinkedIn. Many of the hires were engineers who interned at Tesla and specialized in mechanics, manufacturing, and robotics.
It turns out those cameras atop the mystery Apple van COULD be used for a self driving car http://t.co/JwuOfNTVyLpic.twitter.com/8WI0xAChtS

— BI: Tech (@SAI) February 6, 2015
Still, not everyone is convinced Apple is creating a self-driving car to battle Tesla. Dhruv Batra, an assistant professor at Virginia Tech's Bradley Department of Electrical and Computer Engineering, told Wired that the 12 cameras mounted on the car, as well as the spinning cylinder situated on the front and back of the van, look like Velodyne LiDARs, which are used to analyze the environment surrounding the car.
READ MORE:Google's driverless cars take a ride on city streets
Batra added that the car does not have the necessary equipment to be a self-driving vehicle.
Further speculation is that an alternative to Google Street View may be under development. Street View is a function that Apple hasn't quite nailed to the extent that Google has; its map service, introduced in 2012, was poorly received and home to various bugs.
READ MORE:Apple posts biggest quarterly earnings in corporate history
Other possibilities could be that it's a new iPhone-to-car experience that will be better than what Tesla offers in its own vehicles – such as CarPlay, which lets you control the car's entertainment and other systems with a smartphone, as well as unlock doors without a key.
You can share this story on social media: