Cop gets 30 months for bribery after coercing sexual favors from defendants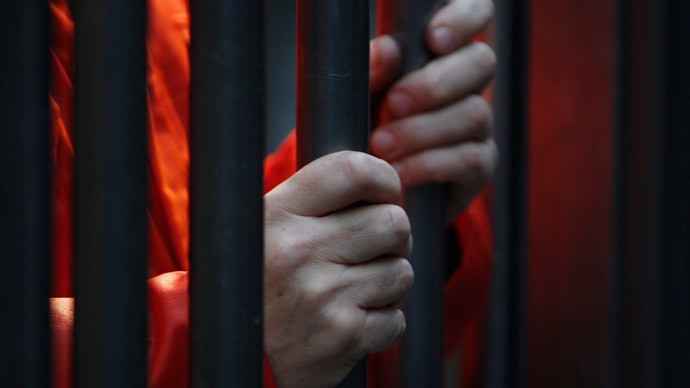 An ex-cop will spend the next 30 months in prison after admitting that he offered to help three women facing federal drug charges receive light sentences in exchange for sexual favors.
The former police officer, 42-year-old Kevin Moore of Roanoke, Virginia, made the admission in a plea agreement signed last December. Moore said he told a cooperating defendant awaiting sentencing for methamphetamine trafficking that he'd recommend prosecutors go easy on her in exchange for certain sex acts.
While working for the Salem, Virginia Police Department – and as a federally deputized member of the United States Drug Enforcement Administration task force – Moore "convinced the cooperating defendant to go for a ride in his official vehicle where she performed a sexual act," he admitted in the plea deal, according to the Justice Department.
According to the agreement, Moore acknowledged engaging in similar conduct with two other women, described by the Department of Justice (DoJ) as cooperating witnesses in federal drug probes dating as far back as 2009.
"Moore falsely informed these witnesses that he had convinced federal prosecutors not to charge them with federal criminal offenses that would carry significant prison sentences," according to the DoJ. "Moore then solicited and received sexual favors from the witnesses in exchange for his purported assistance."
One of the women cooperating with authorities, according to court documents, was involved in a heroin distribution investigation and had oral sex and intercourse with Moore after he suggested he could help her receive a lesser sentence once the probe had concluded. In another instance, Moore admitted to picking up a cooperating defendant from her mother's house and driving her to a gravel road, where she then performed fellatio on him after being told it would help her odds on sentencing day.
Former Salem police officer Kevin Moore sentenced to 30 months in prison for sex bribe. http://t.co/CwnZMw7Tyspic.twitter.com/Ra1q2HKSiK

— The Roanoke Times (@roanoketimes) February 9, 2015
According to prosecutors, the defendant in the meth case told Moore through a text message in April 2014 that she was concerned with facing "40 years and two 1 million dollar fines." Moore responded: "…I will do all I can to help you out with that."
"I appreciate it and I will do whatever you need me to do so don't worry bout that," the woman responded.
"That's what I'm talking about girl," Moore wrote back. "Lol."
The conversations became increasingly flirtatious and eventually led to the woman performing oral sex on Moore in a gas station parking lot last August. Soon after, the defendant approached the authorities, and roughly one month after that meeting a search warrant was served to Verizon Wireless, in turn revealing evidence of the text messaging conversations between the two. Surveillance camera footage subsequently acquired further linked Moore to the sex acts, and he was arrested in October.
"Kevin Moore took a solemn oath to protect and serve the public, but then abused the authority of his badge by sexually exploiting a federal witness," Assistant Attorney General Leslie R. Caldwell of the Justice Department's Criminal Division said in a statement when a plea agreement was signed last year.
"When Moore crossed the line from enforcing the law to breaking it, his actions cast an unfortunate shadow over the selfless and courageous work of his fellow officers. Working with our law enforcement partners, the Department of Justice will expose and prosecute all such abuses of authority, in order to restore and maintain the public's trust."
"I'm just extremely sorry. I promise I'll never be in any trouble," Moore told the court on Monday, according to local network WDBJ, when he was sentenced to 30 months for one count of bribery – the longest term recommended per federal sentencing guidelines. Additionally, he'll be subjected to a year and a half of probation once released.
You can share this story on social media: