​Utah police sued for breaking man's prosthetic arm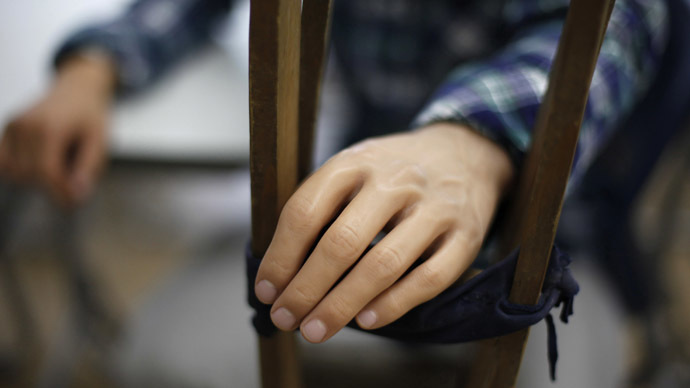 An elderly Utah man wants the Heber City Police Department to pay him $1.5 million in damages after he said his prosthetic arm was broken off by one of its officers during an unjust traffic stop.
The man, Danny Baker, filed the claim in federal court on January 30 in the hope of settling a year-and-a-half-old dispute that began when he was pulled over outside of Heber City for supposedly driving with a cracked windshield.
According to Courthouse News Service, Baker alleges that Officer Brunnell (first name unknown) broke his prosthetic limb during the incident.
Heber City Police Officer Michael Stowe pulled Baker over in August 2013 for the windshield crack, the suit attests, then ran a database search and determined that the driver did not have a valid license.
When Stowe attempted to place Baker under arrest for multiple minor traffic violations, the man reportedly barked back, "you ain't touching me with those cuffs till you read me my rights," according to the complaint seen by Courthouse News.
Baker then says he told both officers that he could not place his arms behind his back to be put in handcuffs on account of having prosthesis. Nevertheless, the suit alleges the officers ignored the man's warning and instead forced him to assume the position.
"Officer Stowe then grabbed Mr. Baker's left hand and elbow, and forcibly turned Mr. Baker toward the car, while forcing Mr. Baker's arms behind his back," reads the complaint
"Officer Bunnell exerted such great force upon Mr. Baker's arm that the prosthesis in Mr. Baker's arm snapped, breaking Mr. Baker's arm, destroying the prosthesis and resulting in severe pain to Mr. Baker," it continues.
Courthouse News reports that Baker was then brought to an area police station where he was later released on bail, but not before being denied medical treatment for hours. Later on, charges related to driving on a denied license, failure to stop, expired license, and cracked windshield were dropped after "evidence and videotapes from the arrest" were presented to an attorney.
Even with the charges behind him, though, Baker isn't satisfied. Attorney Justin Heideman is now helping him sue the Heber City police for unreasonable seizure and excessive force, false arrest and malicious prosecution, and is seeking $1.5 million in damages plus treble damages for his client.
You can share this story on social media: