Hoppy meal: Woman tossed out of McDonald's after taking 'therapy' kangaroo to lunch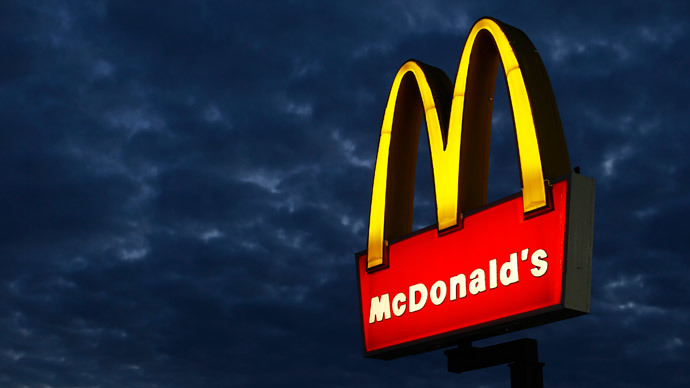 Multiple animals can be used to accompany those with disabilities, such as dogs, birds, horses…and kangaroos? That's what one Wisconsin woman claimed when she took the marsupial into a McDonald's, but that didn't keep police from kicking her out.
The strange situation took place last Friday, but was just reported recently. At 11:41am, Diana Moyer entered a McDonald's in Beaver Dam, Wisconsin, with a baby kangaroo accompanying her. Moyer and her husband, Larry, actually own five kangaroos at their home, according to the Beaver Dam Daily Citizen, and they have been taking the young animal to that same McDonald's for three months.
Up until Friday, Moyer had yet to receive a complaint. However, someone finally took exception to the trips when a customer called Beaver Dam police to complain about the fact that a woman brought a kangaroo into McDonald's. When officers arrived, they asked her to leave the restaurant.
READ MORE:'Emotional support pig' can't fly US Airways, kicked off with owner
Moyer told police the kangaroo was a service animal whose use had been approved by a doctor, but the argument did not convince police, who said that customers did not feel safe. Moyer left after this and no tickets were issued.
In an interview with local ABC affiliate WISN, Larry Moyer admitted that his wife's kangaroo was not a service animal, but instead a "therapy" animal. Unlike service animals, therapy animals are not protected by disability laws.
"It's a friend for her, a companion, and we have a little car seat and stroller," he said.
The family also said that the animals are not a threat to anyone. They even take the youngest kangaroo to church, according to the Daily Citizen.
Meet the couple who brought a kangaroo to McDonald's http://t.co/BdVXam1S8Wpic.twitter.com/bcSp3euMxd

— WISN 12 News (@WISN12News) February 4, 2015
Police told WISN said the situation was handled properly.
"While it's an unusual call, certainly handled in an appropriate manner going in and ultimately getting what we'd like to get voluntary compliance with the ordinance, there was not a reason for arrests or other citations issued," Beaver Dam police Detective Ryan Klavekoske said.
McDonald's, meanwhile, issued the following statement:
"We are aware a customer called the authorities regarding this incident, who then investigated and took the steps to resolve the situation. Our policy is to make our restaurants accessible to all customers, including those with disabilities and special needs."
While using a kangaroo as a therapy animal may seem strange, many kinds of animals can be used to provide emotional stability. Emotional support animals are used to provide people with feelings of security and calmness.
In one case last November, a woman tried to board a plane with an emotional support pig before being kicked off the flight. Another woman has tried to claim a need for the companionship of various animals, including a turtle and a turkey, for the same reason.
You can share this story on social media: