​Illinois police officer found 'not guilty' after causing fatal internal bleeding in WWII vet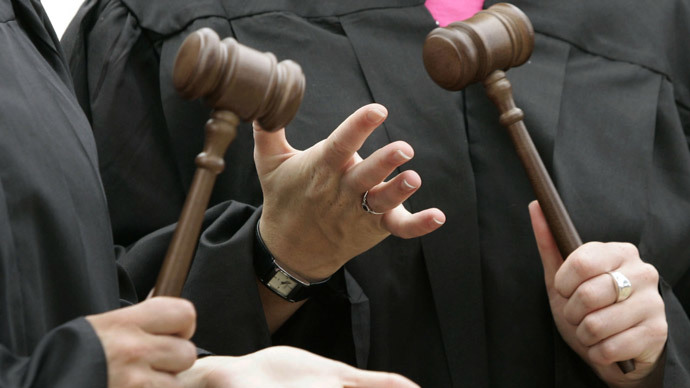 A judge has found an Illinois police officer not guilty of reckless conduct after the cop fatally injured a 95-year-old military veteran by firing multiple beanbag rounds at the man.
Local media outlets reported that Judge Luciano Panici on Wednesday acquitted Officer Craig Taylor of the Park Forest Police Department and said the use of force exhibited by the cop during the July 2013 incident "was not excessive."
"There was nothing criminal about his actions," the Chicago Tribute quoted Judge Panici as having said.
Officer Taylor, 44, fired five beanbag rounds at John Wrana Jr. inside the man's retirement home apartment after the World War II veteran struck a paramedic with a cane and then refused to heed orders from the police to put down a knife.
"I've heard enough about World War II," Taylor's attorney, Terry Ekl, said during the trial, according to the Tribune. "It's nothing but an attempt to create more sympathy for Mr. Wrana."
Attorneys for the deceased's family argued that Wrana "was absolutely not an imminent threat" and his actions did not warrant the response they received.
"Absolutely not. Common sense dictates that," said Assistant State's Attorney Regina Mescall, according to the Tribune, arguing that the officer acted improperly and with haste.
Park Forest officer Craig Taylor leaves court after testifying in his excessive force trial. Details @fox32newspic.twitter.com/XSDBCR8OJz

— Craig Wall FOX 32 (@craigrwall) January 15, 2015
Wrana died from internal bleeding after being struck in the abdomen at least four times by the projectiles, the Associated Press reported.
Judge Panici said that ultimately, Officer Taylor abided by proper protocol and fired the supposedly less-than-lethal rounds in compliance with department-sanction training.
An 11-year veteran of the force, Taylor faced one count of reckless conduct, a Class 4 Felony. He was charged by the Cook County State's Attorney Office last April, nine months after the incident occurred.
You can share this story on social media: