​Hacktivist Jeremy Hammond slams US for 'blatant hypocrisy' over cyber ops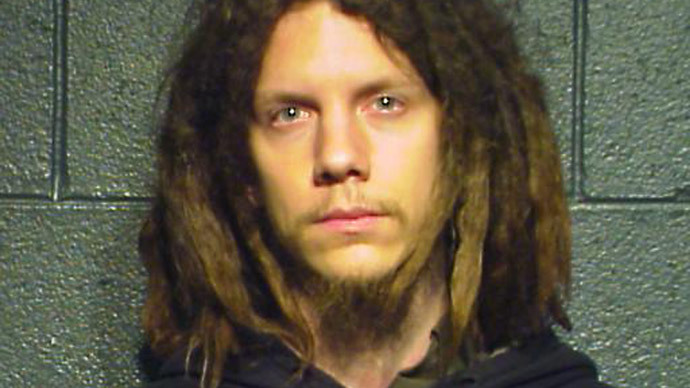 From behind bars, imprisoned hacktivist Jeremy Hammond has written that the United States government is invoking fears of cyberterrorism in order to implement new laws and ignore its own offensive online operations.
America's "blatant hypocrisy" must be questioned, according to the 30-year-old convicted member of hacktivist group Anonymous, who said in a new editorial that Washington lawmakers are relying on propagating purported cyberattacks in order to advance an agenda intended to usher in legislation and rein in activity the US is equally as guilty of exhibiting.
Hammond is currently serving a 10-year prison sentence for his admitted role in Anonymous operations that targeted the networks of law enforcement and private sector companies, including Texas-based intelligence firm Stratfor, but said at his November 2013 sentencing hearing that he also attacked foreign entities supplied to him by a hacker-turned-federal informant who was under law enforcement supervision at the time.
READ MORE:Stratfor hacker Jeremy Hammond sentenced to ten years in jail
Now in the wake of the recent Sony Pictures Entertainment hack – and subsequent calls from both sides of the aisle for cybersecurity legislation and updates to the Computer Fraud and Abuse Act – Hammond writes in the Guardian this week that one should be weary of the US government's claims, in terms of attribution and the potential impact.
"The US has always been the world leader of cyberwar, hacking damn near everyone without any repercussions. And, for years, US intelligence officials and private contractors have been milking hacks to secure billions in cybersecurity programs: All you need is an enemy, and they will sell you the cure," Hammond wrote.
With regards to the Sony hack attributed by US officials to North Korean actors, Hammond wrote "[a]uthorities are once again sounding the cyber-terrorist alarm" and thus relying on "the biggest smoke-and-mirrors mechanism used to deny citizens both due process and free speech in the 21st century."
"Law enforcement agents use that word to summon images of 9/11 and Pearl Harbor and stoke public fear into justifying their mass surveillance dragnet – monitoring each and every communication, every internet transaction," Hammond wrote of terrorism. "The primary targets of these abuses have been Muslims and immigrants, but trumped-up federal terrorism charges have entrapped activists like the Cleveland Five and various earth and animal liberation warriors. Now the latest enemy is 'cyber-terrorism': The governments insist that our critical infrastructure is under attack, and we need draconian new measures to protect our 'national security."
Indeed, Hammond has found himself uniquely qualified to weigh in on the topic of terrorism from a point of view few others have the benefit of experiencing: The Daily Dot reported earlier this week that US law enforcement had placed the hacktivist on a secret watchlist prior to being apprehended in March 2012.
"Do not advise this individual that they are on a terrorist watchlist," reads part of the document labeled "law enforcement sensitive" and with the warning "approach with caution."
"This raises questions about the US government's definition of terrorism and whether they have expanded it to including hackers," Hanni Fakhoury, a senior staff attorney for the Electronic Frontier Foundation, told the Guardian of the revelation.
"If it was Al-Qaeda or Islamic State that would pose no problem for me, but if they were referring to Anonymous that would be a different proposition," he said.
Leaked intelligence documents previously disclosed by former NSA-contractor Edward Snowden suggest that the US government does, in fact, have rules for targeting suspected members of Anonymous believed to be abroad. Now in what could be considered an apparent attempt at reviving the hacktivist movement after it suffered a significant blowback with the arrest of Hammond and others, the imprisoned author signs off his latest Guardian op-ed with a call of arms of sorts that at least aims to encourage taking a harder look at the government's latest claims concerning cybersecurity.
"A different kind of cyber-war is possible: Not one between nation-states but between the people and their governments. The internet's natural state is anarchy and any attempts to militarize or corporatize it will be owned, exposed and driven offline anyway. I shed no tears when I hear about Sony, CENTCOM or police departments being hacked. In prison, we love hearing about all the bigshots getting hacked by guys like us. So keep on, true-to-the-code blackhats for great justice: instead of selling out your skills to the industry competing for federal contracts supporting US empire, actively undermine it by contributing anti-state solutions by developing encryption, anti-censorship and anonymity infrastructure. We're cheering for you," he writes.
FBI put hacker Jeremy Hammond on a terrorist watchlist: http://t.co/qVw4jySaLu by @dellcam

— The Sabu Files (@sabufiles) February 2, 2015
Meanwhile, Democrats and Republicans alike have championed new computer legislation in the months after the Sony Pictures hack went public in December and spawned not just efforts from Congress and the White House, but sanctions towards North Korea in an apparent response.
As Hammond and others acknowledge, however, the US has failed to be forthcoming for now in terms of producing evidence that Washington is relying on in order to link the attack to Pyongyang.
"The inherent difficulty of identifying the true attackers should give us pausebefore we rush to judgment," he writes. "It is, however, the perfect pretext for the US to launch their own hacking operations (not that they've ever needed any justification before)."
Hammond testified during his 2013 sentencing hearing that an Anonymous hacker known as "Sabu" supplied him with multiple foreign targets while cooperating with the Federal Bureau of Investigation.
"These intrusions, all of which were suggested by Sabu while cooperating with the FBI, affected thousands of domain names and consisted largely of foreign government websites, including those of Turkey, Brazil, Iran —," Hammond said being silenced by US District Court Judge Loretta Preska.
You can share this story on social media: