NYPD cop indicted after stomping on suspect's head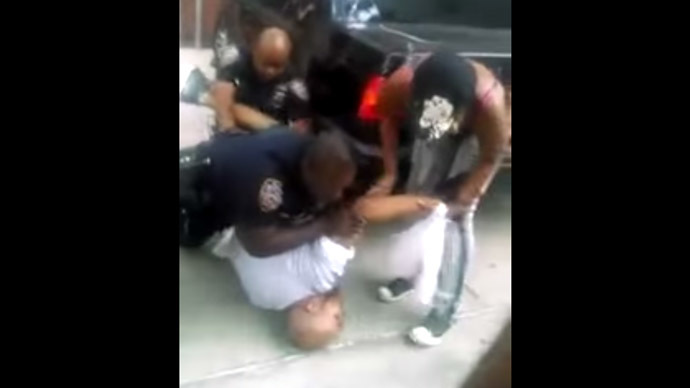 The New York Police Department officer caught on tape apparently stomping on a subdued suspect has been indicted by a grand jury on a misdemeanor charge of assault. The grand jury only considered the misdemeanor charge, which carries up to a year in jail.
Officer Joel Edouard, 36, appeared in Brooklyn Supreme Court on Tuesday and pleaded not guilty to a misdemeanor charge and an official misconduct charge, according to NBC. The incident happened during an arrest in Brooklyn on July 23, last year, when police on patrol saw the suspect, Jahmiel Cuffee, allegedly rolling a joint outside a residential building, which he then threw away when he saw authorities.
NYPD officer indicted for allegedly stomping on man's head during arrest http://t.co/rFilmbpJe3pic.twitter.com/35p72GEhcr

— amNewYork (@amNewYork) February 3, 2015
Cuffee showed police his ID but, when they attempted to place him under arrest, he allegedly resisted and the officers struggled to take him down.
READ MORE:NYPD reversal: Anti-terror unit armed with machine guns won't police protesters
In the amateur video caught by a bystander, you can hear Cuffee plead "help me!" as several cops hold him down. Edouard can be seen briefly pulling out a gun, then putting it back in his holster. He walks away, returns and appears to kick Cuffee in the head, prompting another cop to push him away and the crowd to gasp.
Cuffee, who suffered scrapes and bumps, was charged with attempting to tamper with evidence, obstructing governmental administration and resisting arrest. The charges were eventually dropped, and Officer Edouard was placed on modified desk duty in July. The incident was investigated by the Internal Affairs Bureau.
READ MORE:New York City settles NYPD chokehold lawsuit for $75,000
Brooklyn District Attorney Ken Thompson called the allegations "unacceptable for a police officer."
"Police officers put their lives on the line every day to keep us all safe. However, this defendant allegedly stomped on the head of a suspect as he lay on the ground, which is unacceptable for a police officer," he said in a statement. "While a serious matter, this indictment should not reflect on the great work being done throughout the city by the vast majority of police officers who perform their duties honorably."
Edouard's attorney said his client had been trying to handcuff the suspect, who allegedly had been drinking on the sidewalk and had marijuana on him, and that this was nothing more than a case of an officer doing his job.
"@keithboykin: NYPD officer Joel Edouard has been indicted for using excessive force. pic.twitter.com/BCGHCAzIIs" WOOOW that was quick. Wonder y

— C i M O (@6Ts_vintage) February 4, 2015
The alleged stomping came less than a week after the July 17 chokehold death of Eric Garner in Staten Island. Garner's arrest was also captured on amateur video, prompting protests around the city.
READ MORE:Brooklyn DA to probe allegations NYPD officers planted guns
Edouard is the third NYPD police officer charged by the Brooklyn DA's Office since November, when two cops were indicted by a grand jury for chasing down a teen and allegedly hitting him in the face with a gun.
This would be "the third cop indicted by the Brooklyn District Attorney's office in the last three months because of assaults caught on video – demonstrating once again that cellphones are still the best protection civilians have against police over-aggression, at least to demonstrate these brutal acts are taking place," wrote Nick Chiles in the Atlanta Black Star.
You can share this story on social media: