Good Samaritans donate to Detroit man who walks 21 miles to work each day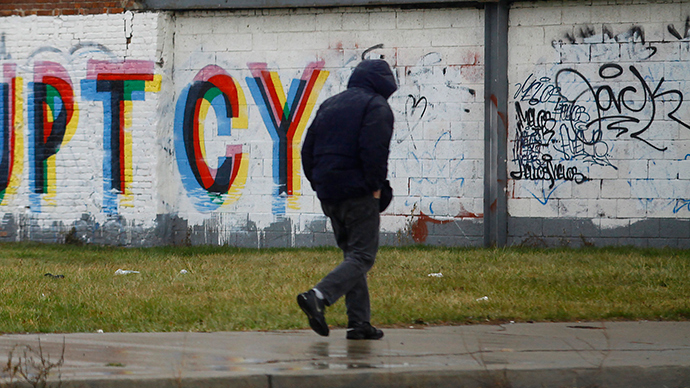 Unable to afford a car, Detroit resident James Robertson walks a 21 mile round trip to his factory job each day. A local man noticed his plight and began offering him rides.
Now, an online donation page has reeled in plenty of money for a car – and more.
As of 3:20 p.m. EST, the GoFundMe page 'Help James Robertson Get a Car' had more than $222,000 in donations.
Evan Leedy, a 19-year-old Wayne State University student, first heard of Robertson through local media and wanted to help.
"It was just really inspiring to see someone who has to walk 21 miles every day," Leedy told RT in an exclusive interview. "That's about the distance that it takes me to drive to work, so, to imagine walking that distance every day was incredible."
How many of us would walk 4 hours to & from work, in the frigid cold of Detroit, to support your family? #NONE@TIME: pic.twitter.com/hv1WNeiQZn

— ATHLETES FOR CHARITY (@A4C_ATHLETES) February 3, 2015
Sifting through the Detroit Free Press comment section connected to Robertson's story, Leedy said many people were expressing interest in donating money to help. He decided to start the GoFundMe page with the goal of raising $5,000 for Robertson.
"Within in an hour, we had almost matched that goal. So I raised the goal all the way up to $25,000, and so far right now, we have $160,000 in donations," Leedy said.
Leedy said $90,000 was raised by the time he and Robertson first met.
"He does seem like a very humble guy that doesn't accept help easily. He wants to be independent and figure things out for himself. But after talking with him yesterday, he's very comfortable with the attention that he's getting and the donations that he's getting. He's extremely thankful for the support everyone's been giving him."
"We're going to accept donations as long as people are willing to donate," he added.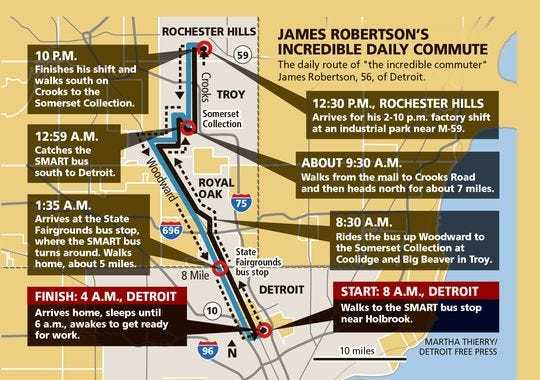 Leedy said he is helping to coordinate a committee "to help James with all this, and to coordinate the logistics of everything."
Leedy said television shows, including The View, have sought interviews with Robertson.
"As much as I'm trying to change James' life, he's changed mine as well," Leedy said he wrote to donors. "It's had an extremely big impact on me to see how many people are willing to donate."
RT @smh: #Detroit man must walk 33 km a day for commute. So the internet is trying to help. http://t.co/ON7TlJg10npic.twitter.com/4nAJBVmICO

— Richard Hundt (@richardhundt) February 3, 2015
Robertson told Fox News that he has not been able to purchase a car on his wage of just under $11 an hour. For more than a decade, he has walked to his job at Schain Mold & Engineering.
"I can't express in words how I've been feeling," Robertson said. "I can't really express how grateful I've been feeling since the money's been raised."
Blake Pollock told Fox he noticed Robertson trudging back and forth along the same route each day, and the pair struck up a relationship.
"When I saw him a couple months later, literally standing on top of a snow bank at a corner, and I said to myself, 'Well, you know I promised this guy a ride. I have to,'" Pollock said. "So I pulled over and gave him a ride and didn't think he was going to be as interesting a person as he really is."
"Since then, it's been dozens and dozens of rides over the course of the last year and a half or two years. We spent some quality time in the car, and he's an amazing person. It's a fun thing for me to do."
You can share this story on social media: