​Obama's budget seeks more tax on corporations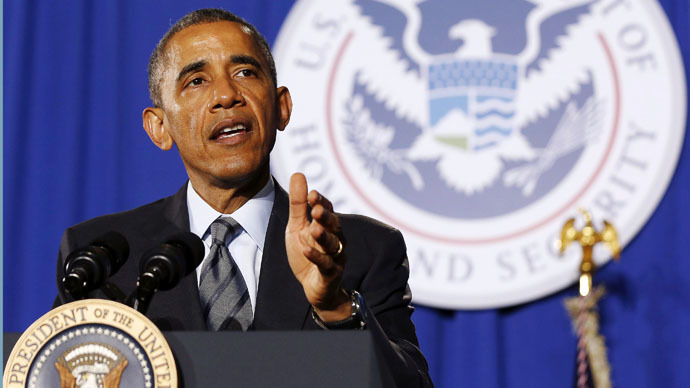 US President Barack Obama unveiled a proposed budget plan on Monday that included a three-pronged approach for tax reform that would lobby new tariffs against corporations in an effort to help fund new economic growth projects.
If accepted in its current form, the president's budget plan for the financial year 2015 will implement two separate tax hikes aimed at US-based businesses and put in place new measures intended to discourage US citizens from skipping out on payments.
One of the hikes – a one-time fee that would place a 14 percent tax on US companies' past foreign earnings – would fund half of a $478 billion initiative involving repairs and upgrades to the nation's infrastructure.
Another change-up being touted by the White House would implement a forward-looking 19 percent tax rate on the future foreign-held profits of US-owned businesses.
The Obama administration intends for the imposition of new tariffs on profits held abroad to discourage American executives from securing their finances in offshore tax havens.
Proposed changes would also cut the corporate tax rate from 35 percent down to 28 percent, significantly lowering fees for businesses that the administration hopes will turn to the US in lieu of them operating abroad.
"These proposals will put more money in middle-class pockets, raise wages and bring more high-paying jobs to America," the president said of his proposal. "To pay for them, the budget will cut inefficient spending and close tax loopholes to make sure that everyone pays their fair share."
"We can afford to make these investments while remaining fiscally responsible," he said of the proposed infrastructure rebuilding efforts. "We would be making a critical error if we avoided making these investments…We can't afford not to."
According to the Washington Post, Obama's plan would also expand tax credits to parents paying for child care, extend unemployment insurance and allocate $215 million towards researching new medical efforts, while also increasing the Pentagon's spending budget by $38 billion.
The Hill reported that, if approved, the plan would exceed spending limits agreed on in 2011 that significantly reduced the military's budget through sequestering.
"I'm not going to accept a budget that locks in sequestration going forward," Obama said during a visit to the Department of Homeland Security on Monday, according to the Hill.
If approved, the president's proposal would cut deficits by $1.8 trillion during the next decade and keep annual deficits below 3 percent of the nation's gross domestic product, according to the administration's analysis. Roughly $1.44 trillion in new taxes would be collected during that span, according to the Wall Street Journal.
The president's proposal will face an uphill battle in Congress, however, where a Republican-dominated House and Senate are expected to hold up Obama's plans.
Sen. Orrin Hatch (R-Utah), the chairman of the Senate Finance Committee, told the Washington Post that Obama "is the most liberal, fiscally irresponsible president we've had in history" upon weighing in on the proposal.
Democrats, meanwhile, will likely endorse Obama's plan, even if it's dead in the water, as far as the GOP is concerned.
"The president's proposal would close a lot of the tax breaks that encourage corporations to move jobs and capital overseas and invest more of that in jobs and infrastructure here at home," Rep. Chris Van Hollen (D-Maryland), the top Democrat on the budget panel, told US News & World Report.
You can share this story on social media: