​Bill would let Texas teachers legally kill students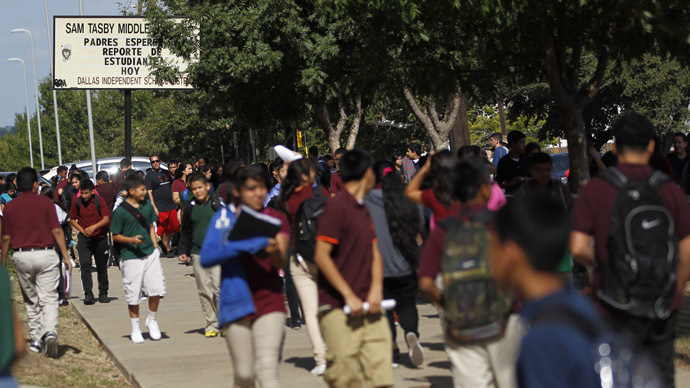 Schoolteachers in Texas will be allowed to use lethal force against students without risking legal repercussions if a new bill being considered in the Lone Star State's legislature becomes a law.
The bill –HB 868, or the "Teacher's Protection Act" – affords educators legal immunity in the unlikely event that they happen to kill any of their students during school-sanctioned events.
Specifically, the bill – introduced to the Texas State Legislature on January 22 by Rep. Dan Flynn (R-Canton) – says "an educator is justified in using force or deadly force on school property, on a school bus or at a school-sponsored event in defense of the educator's person or in defense of students of the school that employs the educator if, under the circumstances as the educator reasonably believes them to be, the educator would be justified…in using force or deadly force, as applicable, in defense of the educator or students."
Indeed, the language does not limit any hypothetical action on the educator's part to be done in self-defense: the proposed bill actually allows teachers to use deadly force on children if they believe another student or their self is in danger.
As of August 2014, Texas was among eight states in the country where laws allow school employees to carry firearms on campus, according to the National Conference of State Legislatures. And, as the Houston Chronicle pointed out this week, teachers in Texas are already granted immunity if they assault a student, and the "use of force, but not deadly force, against a [student] is justified."
If approved, Rep. Flynn's law would enhance the current legislation in order to let teachers get off the hook – not just for striking a student, but actually killing them.
Monty Exter – a lobbyist with the state's largest educator group, the Association of Texas Professional Educators (ATPE) – told the Chronicle that Flynn's proposal wouldn't actually change much since the Lone Star State already lets adults kill one another if done in self-defense.
Even still, Exter said the issue should be brought up locally by school boards, not the state legislature.
"We understand he's trying to carve out some liability protections. But, we can't see that the liability protection in that particular bill is any different than the protection that exists in law for a regular citizen," the lobbyist said of Flynn's proposed law.
"Educators in Texas actually do have some legal protections that do allow them to use physical force to protect themselves and protect others, as long as the use of physical force is reasonable," added Paul Tapp, a managing attorney with ATPE.
The Teacher's Protection Act isn't the only one of Flynn's proposals to make headlines lately: the politician is also looking to make sure no "foreign laws" are honored in the United States legal system by touting another bill, HB 670, authored by the Republican in an apparent attempt to keep certain religions from having any influence in the courts.
"There is no question the Judeo-Christian heritage we covet and aim to protect is under attack,"Flynn wrote last year. "We the American people must wake up and recognize the Spiritual Warfare raging in America. We must strengthen those American principles and traditions that made us so prosperous and free, as it is only a matter of time before the same kind of cultural supplanting is manifested within our shores."
If approved, Flynn said that proposal "will require our Texas Judicial System to only allow American Law on American Soil in our Texas Courts."
You can share this story on social media: