Kerry snow job: Secretary of state fined for failing to clear sidewalk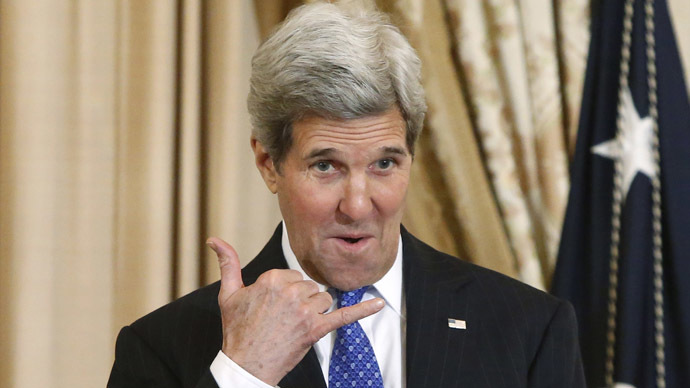 US Secretary of State John Kerry has been fined for not clearing the snow from the sidewalk in front of his house after a blizzard hit Boston. The excuse, according to his spokesman, was "Diplomats – they're just like us."
Among a variety of other titles – such as secretary of state, former senator, and one-time Democratic candidate for president – John Kerry was called "snow-shoveling scofflaw" by the Associated Press, which reported Thursday's $50 fine.
Why can't .@state John Kerry and heiress, layabout Teresa Heinz hire somebody to shovel snow? pic.twitter.com/YvfIN1pqev Limousine #Liberal

— Lisa (@hubofthewheel) January 30, 2015
The fine followed a citizen's complaint, submitted to the website Universal Hub on Wednesday. A resident took a picture of a snowy sidewalk at the five-bedroom Boston townhouse where Kerry has been living since 1995, Politico website reported.
Kerry spokesman Glen Johnson told the Boston Globe, "Diplomats – they're just like us. Secretary Kerry was working overseas while the blizzard packed a wallop back home."
He confirmed that the ticket was issued at 9:45am Thursday, adding that "The snow has all been shoveled now, the secretary will gladly pay the ticket, and let's hope this is the last blizzard of the year."
John Kerry Fined $50 For Failing To Shovel After #blizzardof2015http://t.co/cHPQ9tCiLypic.twitter.com/VWt7OTv6r0

— WBZ Boston News (@cbsboston) January 30, 2015
Kerry was in Saudi Arabia with US President Obama, attending the funeral of King Abdullah, so he wasn't able to clear the sidewalks in front of his Beacon Hill mansion himself. The city saw a massive snowstorm this week, prompting its Mayor Martin Walsh to take action against those who turn a blind eye to snow drifts.
With an estimated net worth of around $200 million, Kerry shouldn't have too much trouble stumping up for the penalty.
You can share this story on social media: