GMO potato seeks FDA approval, opponents say safety risks remain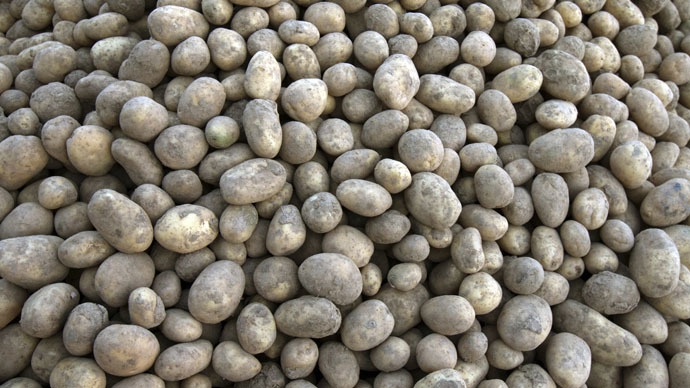 A new genetically modified potato is closer than ever to arriving in American grocery stores, but while advocates claim it can actually reduce the risk of cancer, opponents say not nearly enough is known to ensure public safety.
Created by the J. R. Simplot Company, 'Innate' potatoes were created by inserting extra genes into them – genes that are modified but that otherwise exist naturally in the potato. Through genetic modification using RNA interference (RNAi), scientists used these genes to shut down a few of the potato's other original genes – a process called gene silencing.
Some of the genes being shut down are those that cause bruising and create acrylamide when potatoes are baked or fried. Acrylamide is an amino acid which, in tests conducted on rats, has increased the animals' risk of getting cancer.
There are also financial incentives behind gene silencing, and the Innate potato was designed to solve a big monetary problem. Farmers currently throw out 1.4 billion pounds of potatoes due to browning and bruising, costing them 15 percent of their profits each year. The fewer potatoes thrown out because of this, the more profit they can recoup off their yield.
While the US Department of Agriculture (USDA) approved the new varieties in November, the Food and Drug Administration (FDA) has yet to give the green light on the potato. It is looking into how the genetic modification has altered the chemical makeup of the potato, and whether that raises safety concerns.
The Center for Food Safety (CFS) is worried about the USDA granting the Innate potato a non-regulatory status, since GMO foods are not required to be labeled. As a result, the new potato will be sold to consumers without their knowledge.
"We simply don't know enough about RNA interference (RNAi) technology to determine whether GE crops developed with it are safe for people and the environment. If this is an attempt to give crop biotechnology a more benign face, all it has really done is expose the inadequacies of the US regulation of GE crops," said Doug Gurian-Sherman, the director of sustainable agriculture and senior scientist at CFS. "These approvals are riddled with holes and are extremely worrisome."
CFS said gene silencing may end up turning down – or off – genes other than those that are targeted, because many genes contain similar, or even identical, stretches of DNA. Current testing cannot detect such effects.
Would You Eat a Potato That Won't Turn Brown? GMO Potatoes Have Arrived. http://t.co/ad5Hkho3xT

— Michelle Karkalik (@Ruthsgd35) January 21, 2015
However, Alan McHughen, a biotechnologist and geneticist at UC Riverside, said he disagreed, adding that the Innate potato is a use of genetic technology "that is benign as you're ever going to find."
READ MORE:'Genetic firewall' discovery to make GMOs containable, scientists say
Meanwhile, RT correspondent Lindsay France reported that Simplot has conducted 140 field trials in 15 potato-growing states, as well as Canada.
"We've been eating genetically engineered food products since the middle 90's and so far there is not a single documented case of harm,"McHughen added. "That's a pretty good safety track record, I would be really surprised is this potato would reverse that trend."
READ MORE:Oregon GMO-labeling initiative defeated by Monsanto-sponsored groups
Still, there is other dissent coming from food manufacturers. Frito-Lay, the biggest potato chip maker, and McDonald's have both issued statement saying they are not planning to use the Simplot potatoes in their products.
Will new Innate potato, with no 'foreign' DNA, satisfy anti-GMO critics? http://t.co/Rs8of8H8W5 via @GeneticLiteracy

— Jon Entine (@JonEntine) January 28, 2015
According to France, "Simplot says the Innate will most likely be marketed as a 'value added product' courtesy of the suppression of the cancer-causing agent gene, and a lack of browning. But it's not up to Simplot, and it's not up to the federal government which has passed no law creating a right to know policy for the consumer. It's up to the manufacturers who stand to profit from letting us know or not."
You can share this story on social media: