Protests held for teen girl killed by Colorado police while driving stolen car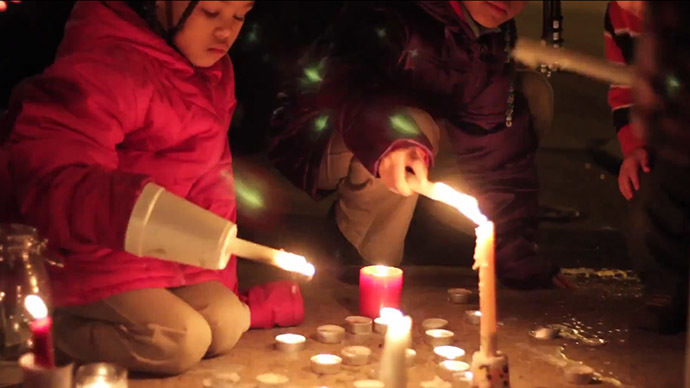 Activist group Anonymous has joined Colorado protesters in asking for transparency during the investigation into the death of a teenage girl shot by police. The 16-year-old was driving a stolen car, which Denver police say she used to strike an officer.
A police officer responding to a call of a suspicious car in the Park Hill neighborhood of Denver early Monday morning arrived at the alley location, ran the vehicle's license plate, determined the car was stolen and called for backup, Police Chief Robert White told reporters at the scene.
"As the officer exited the vehicle, the driver of the [stolen] vehicle struck one of the officers in the leg," White said.
He said both officers then fired several shots at the teenaged driver, adding that a total of five "very young" people were in the car.
Four female and one male teen had been sitting in the car in the alley for several hours, listening to music and talking, the parent of one of the teens told the Denver Post. She said her daughter did not know the car was stolen and did not know who would have stolen it.
Police have not released the name or age of the victim, but friends identified her as 16-year-old Jessica Hernandez, who went by Jessie or Jesse.
Cops say killing #JessicaHernandez for perhaps inadvertently striking cop w/car was 'protocol' http://t.co/Ojhnr97Yoepic.twitter.com/0uBjaAW14j

— Occupy Wall Street (@OccupyWallStNYC) January 27, 2015
Nearly 100 people protested the incident Monday night, which was also a vigil for Hernandez. Friends described the teenage girl as a funny and outgoing high school student who loved her friends.
"She's not the type of person to do anything like this at all or get herself in trouble and it's just crazy to hear this," friend Nyomi Wilder told KDVR.
A second protest was held in front of Denver's municipal building Tuesday morning, but the "handful of protesters… were outnumbered by the media," the Denver Post reported. More people joined, however, after the Greater Denver Ministerial Alliance called for more transparency in police shooting investigations.
"This is not Missouri. This is not New York City. This is not Ohio. This is not Denver, Colorado," said Rev. Patrick Demmer.
Demonstrators gather for #JessieHernandez, teen shot by Denver cops http://t.co/J4WYNDXIQOpic.twitter.com/IQFG539LGQ

— m_x (@soit_goes) January 27, 2015
Some protesters outside the building held signs that read: "Your badge is not a right to kill" and "Hands up don't shoot."
Anonymous called for an inquiry as well, saying the teen's death was "murder."
.@DenverPolice murdered 17 year old #JessieHernandez. http://t.co/63w2w2iVPN Who will bet these murdering pigs get a paid vacation?

— Anonymous (@YourAnonNews) January 27, 2015
The protesters later moved into the lobby of District Attorney Mitchell Morrissey's office, calling for a meeting withthe DA. Morrissey is responsible for reviewing the incident and deciding whether to file charges against the two officers. The DA was not there, but other staff were.
"How would you feel if your kid got killed?" Jose Castaneda, a cousin of the slain girl, asked members of the district attorney's office while standing inches from their faces, the Denver Post reported.
"They can fix his leg," Castaneda said of the injured officer. "What are they going to do to bring her home?"
#Denver activist collect belongings and wait for those headed to Mirch Morrisey's office. #JessieHernandezpic.twitter.com/XSiEvt8BPN

— CO for Justice (@CoForJustice) January 27, 2015
Friends and family are upset not only that Hernandez was shot, but also with how the police treated her body afterwards.
"A neighbor captured a video of the female suspect being searched by police after she was shot. In the video, the female is handcuffed and rolled on her stomach and back, appearing to be searched. The female is limp, silent and motionless as officers move her about," the Denver Post reported.
"I heard three gunshots and me and my friend's mother ran outside to see what's going on," Wilder, a neighbor, told KMGH. "We heard screaming and we found out that it was my friend."
Wilder said she didn't expect what she saw next.
"I [saw] her body being dragged as if she was nothing," she said.
16-year-old girl shot & killed by #Denver Police. Her name was #JesseHernandez. #Fergusonhttp://t.co/owbLBVh4QApic.twitter.com/oUzHoRDRek

— Delonte (@mettawordlife83) January 27, 2015
"She made a bad choice, but to shoot at the head…there were people in the car. At least the cops could've shot the tires to let the vehicle stop, but instead she got her life taken away," friend Cynthia Valdez told KCNC.
"They killed my friend like they were just dragging her and they're trying to say it was a woman. That was a little a** girl that they just shot for no reason," friend Briana Diaz tearfully told KDVR.
Denver police noted that proper protocol is to make sure a suspect doesn't pose a threat to officers or anyone else, even after they are "down," KDVR reported. Both officers will be placed on administrative leave while the incident is investigated by the Denver District Attorney's Office, which is standard procedure.
WATCH: #Denver Police Chief White addresses the media after the officer-involved shooting in the 2500 blk of Newport. http://t.co/sYgtONaGyS

— Denver Police Dept. (@DenverPolice) January 26, 2015
"Based on what I know about the case, obviously there are a lot of questions that need to be answered," White said. "The investigation will probably discover exactly what happened … why, hopefully, the driver did what the driver did while the driver was in the stolen car."
"I think the facts will hopefully show that the officers were correct. If not, we'll certainly address that," he added.
This is the third time in seven months that Denver police have shot suspects who they claim used cars as weapons, the Denver Post reported. The officer who was struck by the stolen car has a fractured leg, but is expected to be okay.
You can share this story on social media: