Militarized security prepared for Super Bowl (PHOTOS, VIDEO)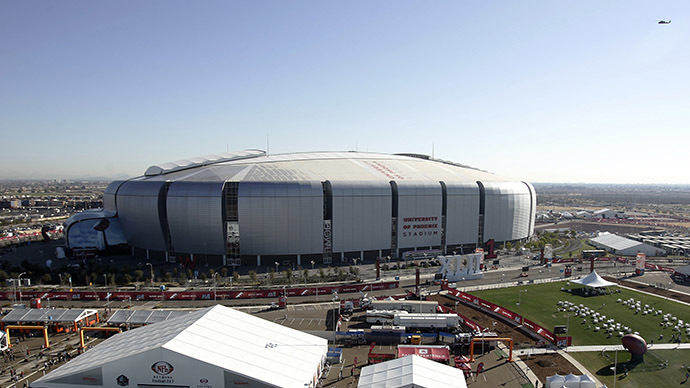 Super Bowl security will be reinforced by Black Hawk military-style helicopters and massive X-ray machines designed to scan large cargo trucks, all courtesy of US Customs and Border Protection.
On Monday, Customs and Border Protection Commissioner R. Gil Kerlikowske was in Glendale, Arizona, site of Super Bowl XLIX, for a flyover demonstration of the Black Hawks, which will assess air traffic near the University of Phoenix Stadium. The agency has deployed about 100 officers to assist state and local law enforcement, according to AP.
Border Protection lends a hand for Super Bowl security - http://t.co/LoBDBq0YhJpic.twitter.com/qwjflnjv2x

— KTAR News on 92.3 (@KTAR923) January 27, 2015
The large mobile X-ray machines will allow security to scan for contraband and explosives.
Take a look at this giant x-ray machine that is scanning all deliveries to #SuperBowl stadium http://t.co/ExWID983Gupic.twitter.com/j9Tfj4klDx

— azcentral (@azcentral) January 27, 2015
The equipment is normally used by the federal agency to monitor the US-Mexico border.
X-ray machines to scan semis for weapons, explosives at #SuperBowlhttp://t.co/Ng4najpJQO@CustomsBorder@kgun9pic.twitter.com/LDxrERQZ6T

— Simone Del Rosario (@SimoneKGUN) January 27, 2015
Security is no joke at the @nfl experience @nfl@12News#SB49#SuperBowl#Phoenixpic.twitter.com/G0oTEv5GJr

— Carlos Chavez (@azphotoeditor1) January 26, 2015
The militarized security around University of Phoenix Stadium amounts to what has become a normal scenario for the Super Bowl, the championship game of the National Football League and most anticipated sporting event in the US.
Super Bowl security ramps up as big game approaches #SB49#BeOn12http://t.co/nB1ST8mMtwpic.twitter.com/5UzI9jAu5C

— 12News (@12News) January 26, 2015
Border Protection lends a hand for Super Bowl security - MAYBE THE NFL SHOULD BEGIN PAYING TAXES NOW? http://t.co/m4yaTgUXyG via @AOL

— Sam Adams (@Teapublicanways) January 27, 2015
http://t.co/m87pRPO4a8#military Super Bowl XLIX as a Case Study in the Mechanics of Pro-War Propaganda pic.twitter.com/7pXcGF0SJS

— WW3 BREAKING NEWS (@WW3breakingnews) January 27, 2015
Truck sized x-ray machines and Blackhawk helicopters... Nothing says Super Bowl like tyranny! #fearmongering

— Jake Tagart (@JakeTagart) January 27, 2015
Last weekend, during the NFL's Pro Bowl game, the Pentagon got one of its first chances to publicly fly the F-35 Joint Strike Fighter, the costliest weapons program in history.
A job well done by all involved to make the first F-35 flyover at the #ProBowl happen! #FlyFightWinpic.twitter.com/PQiN0LJRUy

— Deborah Lee James (@SecAF23) January 26, 2015
You can share this story on social media: