17yo girl 'brandishing weapon' shot dead by cops in Texas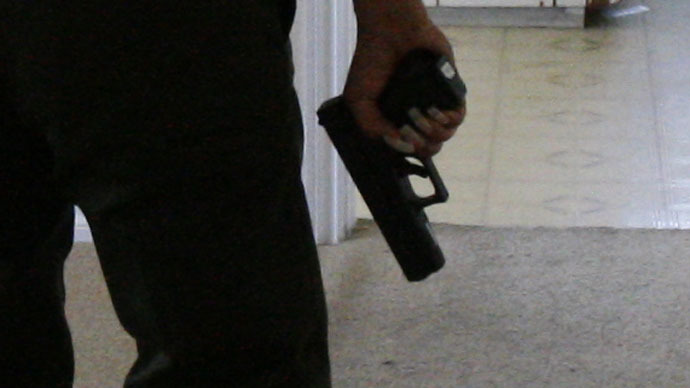 Three officers with the Longview, Texas Police Department have been placed on leave for the shooting death of a 17-year-old girl who "came at the officers" with a yet unnamed weapon, police said. Longview's mayor, though, said the weapon was a knife.
Kristiana Coignard entered the Longview police headquarters on Thursday evening, requesting to speak to an officer, police told The Marshall News Messenger.
Police spokeswoman Kristie Brian said when the unidentified officers arrived, Coignard confronted them with a weapon. She was shot four times after she "came at the officers."
She brandished a knife in the police station and was shot four times. WTF!!!!! http://t.co/Zn284GSc4P

— Connie Comeaux (@ConnieComeaux) January 26, 2015
Longview police would not confirm what kind of weapon Coignard possessed. Texas Department of Public Safety spokeswoman Jean Dark would not speak to the issue either.
"Not at this time," Dark said.
Longview Mayor Jay Dean, though, told The Messenger that he was informed that a "female wielding a knife entered into the police department."
'Why were three cops...unable to subdue a knife-wielding teen girl without the use of lethal force?' http://t.co/Ku6XbEAMUe

— Joshua Holland (@JoshuaHol) January 26, 2015
The station was fairly empty at the time of the shooting, Brian told The Messenger.
"At that time of the day the only people in the building usually are the person who works the desk, the civilian who answers calls, and then there are a few public safety communications people," she said. "Then, if you have any officers in the PD. Other than that, no other civilian employees are at the PD at that time."
READ MORE:Man killed by police in San Francisco leaves suicide note
Brian told ThinkProgress that a video of the incident exists, though she would not comment any further on the case pending an investigation by the Texas Rangers.
Coignard has struggled with depression and bipolar disorder since her mother passed away years ago, according to Coignard's aunt, Heather Robertson, whom the teenager has lived with in Longview since December.
"I think it was a cry for help," Robertson told ThinkProgress. "I think they could have done something. They are grown men. I think there is something they are not telling us."
Has self-interested politics clouded a real discussion we should be having on use of lethal force by police? @TheFivehttp://t.co/a5Z0h0Gv1r

— David Whitfield (@Scribbles646) January 26, 2015
Robertson said before she came to Longview, Coignard had been hospitalized twice in recent years following suicide attempts. She was taking medication and seeing a therapist, but "was only violent with herself," Robertson said.
Robertson said she and Coignard's grandmother, Holly McGuire, spoke to Longview police for 30 minutes the night Coignard was killed. They were also told a video -- with audio -- of the incident existed, but were given few other details. They have not been contacted by the Texas Rangers, according to ThinkProgress.
You can share this story on social media: