State of emergency, schools, roads closed in Edgewater, NJ after apartment inferno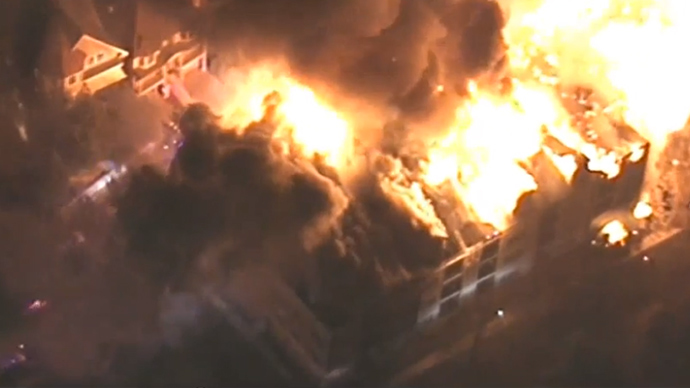 Hundreds of residents of a luxury New Jersey apartment complex were evacuated as a blaze swept through Edgewater's Avalon building on Wednesday night. A local state of emergency has been declared, with schools closed and roads restricted.
The fire broke out around 4:30 pm, sending thick plumes of smoke high into the sky, above the Hudson River. It happened 15 years after another blaze burned the same complex to the ground as it was being built, NBC New York reported. The 408-unit building was quickly evacuated and firefighters struggled to contain the flames, hampered by winds and frigid temperatures. After firefighters first responded, the fire was under control for a little while, but then grew worse in the hard-to-access rear of the complex.
Edgewater Fire Chief Tom Jacobson said on Thursday that the "lightweight" wood structure of the building with a truss-styled roof contributed to the rapid spread of the blaze. "If it was made out of concrete and cinder block, we wouldn't have this sort of problem," he said.

Fire at the Avalon in Edgewater, NJ. Let's keep these families in our thoughts. #edgewaterfire ,#Edgewaterpic.twitter.com/UmRpT7eWSR

— Steve Pedulla (@jawsofhell) January 22, 2015
New York Yankees broadcaster John Sterling was among the residents forced to evacuate. "Maybe I'll get lucky and there won't be that much damage," he told the Daily News. The sports broadcaster was returning home, on his way to an elevator, when he noticed the smell of "intense smoke." Since on one side of the building the elevators had already been shut down, he went to those at the back, but the smoke was so intense he said to himself, "'John, you better get the hell out of here.' So I just drove away."
"I don't know what to expect. Now, I have nowhere to go. And I need a toothbrush," Sterling, who was forced to move to a hotel, added.
Prayers to the community of #Edgewater and the firefighters, ems, and police responding pic.twitter.com/GYZbtj5Xcb

— Ryan Murray (@Yo_Soy_2_Papa) January 22, 2015
If anyone here in edgewater lost there home due to the fire in avalon , my home is welcomed ! !

— 〰 (@Cannablissx3) January 22, 2015
A temporary shelter for residents was established at the elementary school across the street. Some of them had returned from work to find their homes wrecked. No serious injuries to civilians or firefighters have been reported. Authorities said everyone in the four-story building apparently managed to get out safely, nearly 1,000 people were displaced from their homes, according to NorthJersey.com. The cause of the fire has not been determined yet. With plumes of black smoke from the blaze, New York emergency officials advised residents in Manhattan and the Bronx they might see and smell smoke.
Huge fire at the Avalon in River Road in #Edgewater. Avoid going south on River Road at all costs. I hope no one was hurt...

— Jason Hahn (@jasonhahn) January 21, 2015
This fire is NO JOKE!Its massive& spreading. FD coming from every direction. Traffic stopped.#Avalon#Edgewater#NJ

— BeautifulMsMia (@BeautifulMsMia) January 22, 2015
Not looking good for the lower floors. #Edgewater #halliganipa

A video posted by Sean (@halliganipa) on Jan 21, 2015 at 6:57pm PST
According to #Edgewater Mayor minor injuries and no fatalities in the #Avalon apt complex fire in Bergen Co.

— Roxanne Evans (@roxanneevans12) January 22, 2015
You can share this story on social media: