Nearly half of Americans support demilitarizing police – poll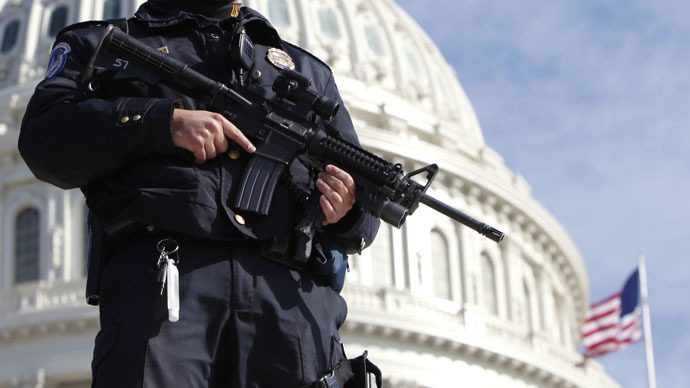 The US public is split on the issue of expanding the military arsenal of police, with nearly half of Americans saying cops should carry fewer weapons, according to the latest poll. Most of those asked also named racial tensions a top problem in the US.
READ MORE: NJ cops shoot 9 times, kill black man who had his hands up
A total of 46 percent of respondents opted for demilitarizing the US police and ensuring officers carry fewer weapons, the survey conducted by ICM Research for Sputnik stated. In contrast, another 48 percent said they support equipping police with heavy weaponry.

The poll, which was conducted in December, surveyed over a thousand Americans of varying age ranges and races.

Its first question asked: "Do you agree or disagree with this statement: The American police should have military equipment and heavy weapons to protect its citizens?"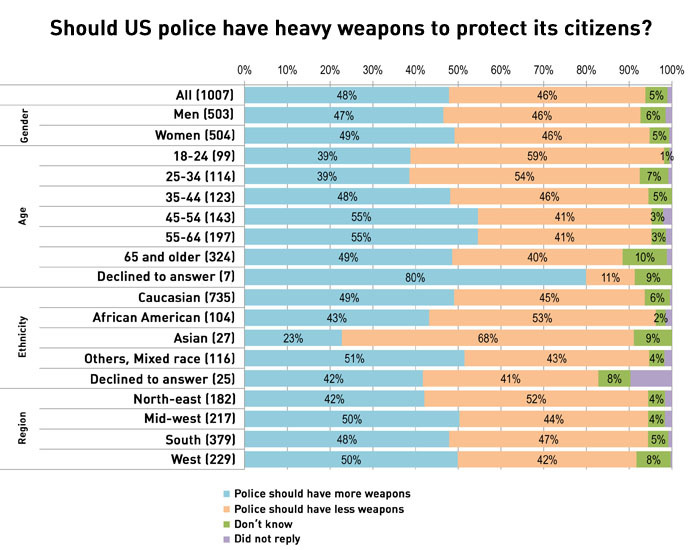 According to the poll, 53 percent of African-Americans disagreed with the need for heavily armed police and said officers should have fewer weapons. In comparison, the white population was split on the subject with 49 percent saying they think police should carry more arms and 45 percent siding against it.

Demilitarizing the police force was a very popular idea among the younger generation of people between the ages of 18 and 34. The majority of those 45 and older were swayed in the opposite direction, supporting better armed police.
READ MORE: Black NYPD cops expose climate of rampant racial profiling in force
The second question of the survey probed whether racial tensions are one of the top problems in US society today. Almost 70 percent of respondents agreed.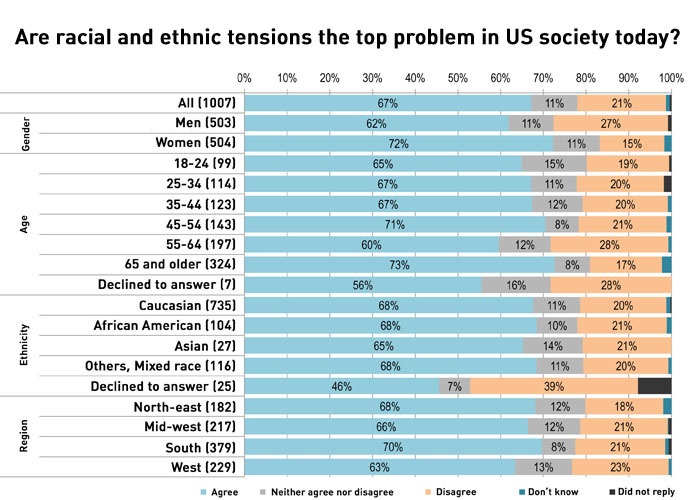 The survey discovered that men are less concerned with ethnic tensions than women. Another finding was that Americans between the age of 55 and 64 were the least concerned with racial problems in the country, with only 60 percent of the respondents stating they view ethnic tensions as a major problem.
READ MORE: 23 arrested as 'Black Lives Matter' protest blocks busy Boston interstate
The issues of race and excessive police use of force against minorities became heated in the US after a jury in Ferguson, Missouri decided not to indict white policeman Darren Wilson over the killing of a black teenager, Michael Brown back in October.

The situation was then exacerbated in December, when another grand jury declined to indict Daniel Pantaleo for the July death of Eric Garner.

Both instances sparked a wave of protests all across the US and the globe under the hashtag #BlackLivesMatter.

READ MORE: NYC mayor announces police retraining amid nationwide protests
You can share this story on social media: