Big Pharma 'overcharging' poor countries for child vaccines - report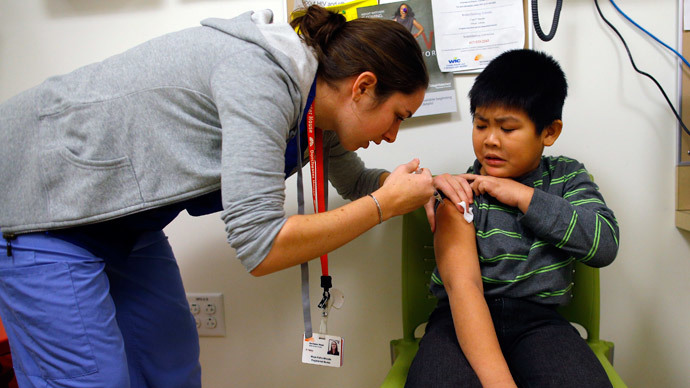 Doctors Without Borders has released a new report blasting two top pharmaceutical companies for inflated costs of vital vaccines that have proved too steep for poor nations, recommending they adjust prices in order to save lives.
The charity, Doctors Without Borders, or Medecins Sans Frontieres, has called on GlaxoSmithKline and Pfizer to drop the price of the pneumococcal vaccine to $5 per child in the most impoverished countries.
The vaccine protects young children against 12 diseases, including sepsis, bacterial meningitis, and pneumonia. Worldwide, pneumococcal disease kills about a million children a year, the group said.
The international medical aid organization said in the report that the cost of vaccinating children in the world's poorest countries is now 68 times higher than in 2001. Pneumococcal vaccines currently account for 45 percent of that price jump, the report noted.
"A handful of big pharmaceutical companies are overcharging donors and developing countries for vaccines that already earn them billions of dollars in wealthy countries," said Rohit Malpani, policy and analysis director for organization's access campaign.
Hospitals in Tunisia pay about $67 for the pneumococcal vaccine, The Guardian reported, while hospitals in France pay about $58.
"We have an irrational situation where some developing countries like Morocco and Tunisia are paying more for the pneumococcal vaccine than France does," said Kate Elder, vaccines policy adviser for Doctors Without Borders' access campaign.
"Because of the astronomical cost of new vaccines, many governments are facing tough choices about which deadly diseases they can afford to protect their children against."
The report was released ahead of an international vaccination donor conference in Berlin at the end of January.
"Donors will be asked to put an additional $7.5 billion dollars on the table to pay for vaccines in poor countries for the next five years, with over one third of that going to pay for one vaccine alone, the high-priced pneumococcal vaccine," Malpani said.
"Just think of how much further taxpayer money could go to vaccinate more children if vaccines were cheaper. We think it's time for GSK and Pfizer to do their part to make vaccines more affordable for countries in the long term, because the discounts the companies are offering today are just not good enough."
GlaxoSmithKline responded in a statement that the price it charges poorer nations for its pneumococcal shot, Synflorix - "one of the most complex we've ever manufactured" - is barely covering costs.
"Many of our available vaccines are advanced and complex and require significant upfront capital investment to make and supply," the company said, according to Reuters. It added that discounting vaccines would threaten the company's ability to supply them over the long run.
Pfizer, meanwhile, said its own pneumococcal shot, Prevenar 13, was too complex to tinker with prices.
"It takes more than two years to create one batch of Prevenar 13, encompassing some 500 separate quality control tests...multiple facilities and hundreds of trained professionals," Pfizer said in a statement.
The report said GlaxoSmithKline and Pfizer had together reported more than $19 billion in worldwide sales of pneumococcal vaccines.
"We need to put public health before profit -- life-saving vaccines for children shouldn't be big business in poor countries," Elder said. "In one week, donors will gather in Berlin to pledge more money for vaccination, so we're asking GSK and Pfizer to hurry up and cut the price of the pneumococcal vaccine before then."
You can share this story on social media: