One killed during bridge collapse demolition in Cincinnati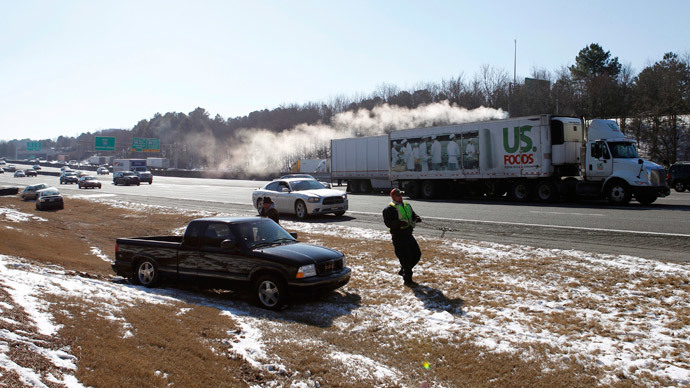 One person has been killed after an aging bridge on Interstate 75 in Cincinnati, Ohio prematurely collapsed while it was being prepared for demolition. Another person was taken to hospital to be treated for injuries sustained.
The "catastrophic pancake collapse" of a section of the Hopple Street overpass occurred around 10:30 p.m. EST on Monday, according to Cincinnati officials, who shut down part of the interstate.
More photos from the "pancake collapse" in Cincinnati: http://t.co/gxiExcTxw0 (Photo: Patrick Reddy, The Enquirer) pic.twitter.com/VCMQExvLC6

— USA TODAY (@USATODAY) January 20, 2015
The Enquirer reported that the worker was pinned underneath a piece of construction equipment that was moving concrete when the bridge gave way, Cincinnati Police Captain Doug Wiesman stated. The accident comes amid reports of the dire state of bridges and other vital infrastructure in the United States.
The Cincinnati office of the Occupational Safety and Health Administration said on Tuesday it has opened an investigation into the cause of the collapse.
The scene at the Cincinnati overpass collapse at 6:20 and 7:45 a.m. ET: http://t.co/3TGWgtTKT4 (Photo: Pat Brennan) pic.twitter.com/T71bL37cLf

— USA TODAY (@USATODAY) January 20, 2015
"What appears to have happened is, in essence, an industrial incident -- a workplace incident with respect to a construction crew that's doing work out here," city manager Harry Black said. "Something went wrong, and a tragedy has occurred as a result."
The Enquirer reported that "the bridge did not appear to have any structural problems" based on a review of federal inspection data.
A new bridge is currently open at Hopple Street, and will remain open despite Monday's accident.
1 dead, 1 injured when highway overpass collapses in Cincinnati http://t.co/053XEu99iEpic.twitter.com/s1efnAeVHB

— NBC Nightly News (@NBCNightlyNews) January 20, 2015
In 2013, the Associated Press found that of 607,380 bridges in the most recent (at the time) federal National Bridge Inventory, 65,605 of them were classified as "structurally deficient" -- or when a bridge is deemed in poor condition or worse by inspectors -- and 20,808 as "fracture critical" -- or if the bridge does not have proper protections and could collapse should one major component fail. And of all those, 7,795 received both classifications.
The Congressional Budget Office reported in March 2013 that the Highway Trust Fund -- a federal fund employed to improve roads, bridges, and ports -- was to hit "insufficient revenues to meet its obligations, resulting in steadily accumulating shortfalls" by early 2015.
In April 2014, federal data revealed about 63,000 US bridges were in need of significant repairs.
Warning that money was running low, the Obama administration urged Congress in May 2014 to boost the Fund, which is mainly supported by gasoline taxes.
"We have an infrastructure deficit in this country,"said Anthony Foxx, secretary of the US Department of Transportation.
"We cannot meet the needs of a growing country and a growing economy by simply maintaining our current level of effort," Foxx said. "We must do more."
Last summer, Congress passed a short-term plan to boost the Highway Trust Fund. Now, with a Republican-led Congress, lawmakers are debating new funding mechanisms for transportation projects.
Responding to the Cincinnati bridge collapse, US Sen. Bernie Sanders wrote that he was set to introduce federal legislation that, he claimed, would put "13 million people to work repairing the backlog of infrastructure projects all across this country."
"For many years we have underfunded the maintenance of our nation's physical infrastructure. That has to change. It is time to rebuild America. I will soon be introducing legislation for a $1 trillion investment, over five years, to modernize our country's physical infrastructure. This bill will not just rebuild our country but it will create and maintain 13 million good-paying jobs that our economy desperately needs."
You can share this story on social media: