Civil rights group asks Washington Redskins to change name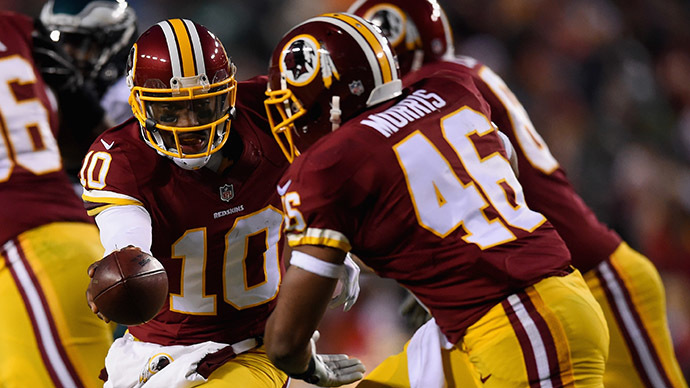 The civil rights group that forced the NFL to change its minority hiring practices is now backing efforts to persuade the Washington Redskins to rename its football team.
The Fritz Pollard Alliance, which is headed by former NFL players, published a letter urging the name change on Martin Luther King Day, in the wake of an effort lasting several months to persuade Washington Redskins owner Daniel Snyder to change the team's moniker.
#Redskins players honor Dr. Martin Luther King Jr. through social media. MORE | http://t.co/yv7wj9Vjc7pic.twitter.com/7UX5cMtDkE

— Washington Redskins (@Redskins) January 20, 2015
"As the NFL continues to move in the direction of respect and dignity, one of its teams carrying this name cuts glaringly against the grain," read the letter co-signed by the group's chairman, John Wooten, who was a Redskins lineman in the late 1960s. "It hurts the League and it hurts us all."
On MLK Day, NFL-allied civil rights group calls for 'Redskins' name change http://t.co/GegwLLmsi3pic.twitter.com/y0U5KnSAKC

— ThinkProgress (@thinkprogress) January 19, 2015
The other signature belonged to FPA Executive Director Harry Carson, a Hall of Fame linebacker for the New York Giants.
"Over the last year, FPA has had multiple conversations with leaders of the Washington Football Club, including owner Dan Snyder and Club President Bruce Allen, as well as leaders in the Native American community. Based on our study and conversations, we believe the Washington Club should cease using the name," the pair said in a joint statement, according to The Washington Post.
READ MORE: Washington Redskins sue Native Americans for calling their name racist
Some Native American leaders have denounced the Redskins moniker as a racial slur, and political leaders, broadcasters, clergy and columnists, former players, coaches and actors have weighed in with their views. Some 76 news outlets and journalists have restricted or banned its use, according to Pew Research Center analysis.
READ MORE:FCC eyes punishing broadcasters for using 'Redskins' football name
The Redskins' owner, Dan Snyder, facing intense pressure, has rejected calls and vowed he will never abandon the name.
Tony Wyllie, a Redskins spokesman, told The Washington Post the team is dismayed by the letter and the position the alliance has taken.
"We've had many conversations with the FPA about the name issue and are disappointed in their decision," he said. "We believe that they ignored the outstanding support we have received from Native Americans across this country for the Washington Redskins and the Washington Redskins Original Americans Foundation during their decision making process."
You can share this story on social media: