Cop suspended in South Carolina for repeatedly punching man in the head (VIDEO)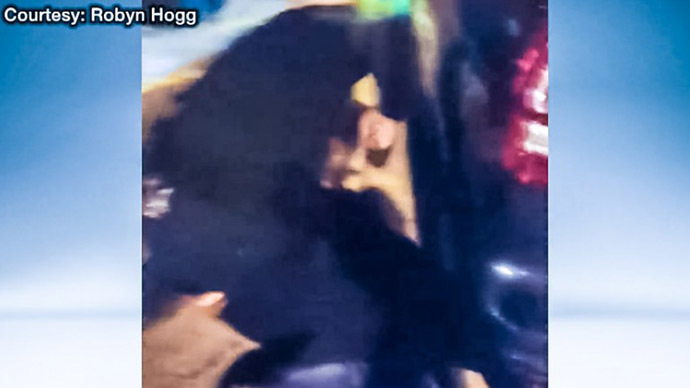 A cop employed by the Columbia Police Department in South Carolina has been suspended without pay after a video emerged showing the officer repeatedly punching a man who had been lying face-down on the ground.
The footage, which first surfaced on Sunday, appears to show Columbia Investigator Tyrone Pugh – an eight year veteran of the force with 28 years of military service under his belt – attacking a man after a fight erupted in the parking lot of a local entertainment venue early that morning at around 2 a.m.
"Stay on the ground! Stay on the ground!" Pugh is recorded yelling while kneeling on the man.
"Why are you punching him?" a woman is heard screaming during the 30-second clip.
"Back the f*** up!" the officer barks in response.
The video appears to show Pugh punching the unidentified man no fewer than five times on or around his head while the victim lay on the ground of the parking lot.
According to South Carolina newspaper The State, the amateur videographer who captured the incident on film said the victim was not involved in a fight that occurred moments earlier and had prompted five nearby off-duty cops to response to an ordeal in the parking lot of Columbia Soundstage.
"He said, 'I didn't do anything.' He wasn't resisting," the photographer, Robyn Fogg, told the paper. ""I think it was unnecessary. Two other cops there were aggressive but not like that."
Columbia Police Chief Skip Holbrook hesitated on the matter of releasing the name of the officer after the video made the rounds on social media on Sunday, before later confirming that the cop, Pugh, had been suspended without pay pending the results of an official investigation.
The South Carolina Law Enforcement Division (SLED) is to conduct a separate, concurrent probe alongside the Columbia Police Department, according to a local Fox News affiliate, to see if any criminal violations occurred.
Both the cop and the man who was struck, Holbrook said, are African-American.
"I know there are multiple sides to the story," Columbia Mayor Steve Benjamin told The State on Monday. "[The video] left me gravely concerned as to what the possible circumstances might have been, and I shared that with the chief and he acted accordingly."
You can share this story on social media: