Dream job: Intern quits Wall Street to launch porn career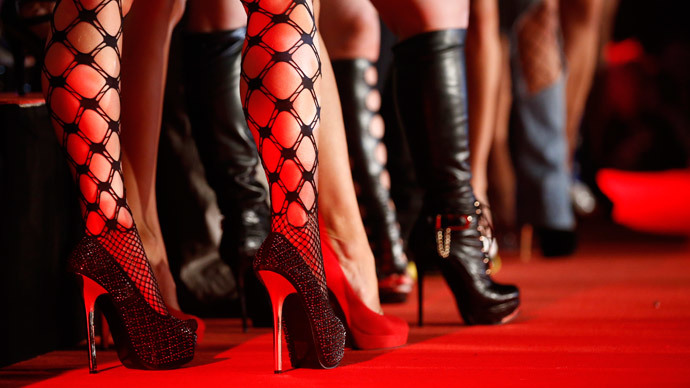 A heavy workload, low pay and lack of fun have forced a promising young intern to give up her Wall Street career and look for a job in the more lucrative and exciting porn industry.
"Intellectually speaking, I love financial analysis and thinking. However, I found that I was not cut out for the politicking required to be successful, and sitting at a desk for eight or more hours a day really sucks the life out of you," Jennings told the BroBible website.
The 23-year-old said she was also irritated that "being openly sexually confident and respectable are mutually exclusive in the corporate world for a woman."
I left finance because if I'm going to take it up the ass for a decade, I'd prefer to get in to a hall of fame for it.

— Veronica Vain (@TheVeronicaVain) January 14, 2015
She followed the motto of Apple founder, Steve Jobs, who said that "You've got to find what you love," and began exploring "other options that weren't so stringent structurally."
Jennings explained that she decided to stick to porn as "I couldn't think of anything that I love doing more than having sex, reading and learning about sex, and talking about sex with other people."
She said that the final conversation with her boss "was a little awkward, but not bad," but the supervisor "obviously couldn't have me coming back to the office when likely just about everyone had seen me half naked online."
More of the talented @TheVeronicaVain who is now all over the news! pic.twitter.com/ayRR0xblLd

— Alex Löm (@Alex_Lom_Photo) January 16, 2015
The rising porn starlet is legally bound from revealing the name of her former employers on Wall Street, but, according to Business Insider, she was an intern at Lazard.
The company has provided financial advice and asset management services "to governments, financial institutions… and individuals," in 26 countries for over half a century.
It was Lazard's office space – its bathroom, to be exact – which became the set for Veronica Vain's first attempts at working in the adult industry.
The half-dressed and naked photos she made in the company's bathroom appeared online with hashtags #naughtyofficeselfie, #nakedselfie and #wallstreet.
The pictures were part of her application for the Sex Factor porn reality show, which is scheduled to take place in Las Vegas in February.
However, after creating a stir in the media, Jennings removed all the photos she made in Lazard's bathroom from her Twitter account.
You can share this story on social media: