Florida cops forced to return 'In Dog We Trust' rug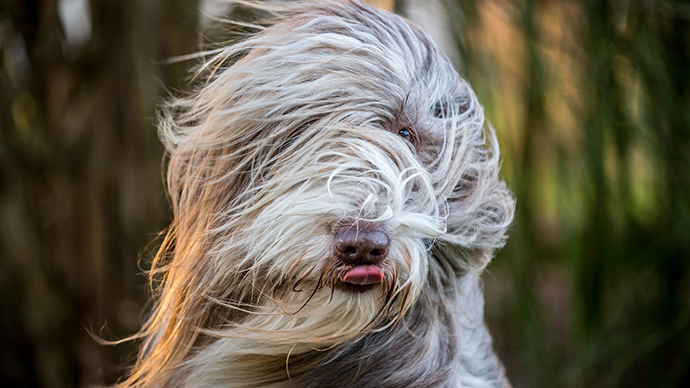 ​What if the omnipotent creator of everything turned out to be a dog? That's what a misprinted rug would have you believe. A Florida sheriff's office is sending an 'In Dog We Trust' rug back to the seller, though the typo went unnoticed for two months.
The mistake wasn't noticed until it was pointed out by Pinellas County reporters upon visiting an administration building used by the local sheriff's office.
Only on Wednesday did local law enforcement realize that the forest green rug embroidered with a yellow sheriff's badge contained the rather peculiar misprint – even though it had been displayed for two months.
"In Dog We Trust," reads the rug; not "In God We Trust."
Oops! "In Dog We Trust" woven within Pinellas Sheriff's emblem on rugs http://t.co/PFzFgz1yvJ via @abcactionnewspic.twitter.com/FH1VHjNAuT

— Dan Shaffer (@danshaffer28) January 15, 2015
A Florida ABC News affiliate first reported the error on Wednesday this week and said the rug was "quickly rolled up and put away."
According to ABC Action News, a spokesperson for the sheriff's office said the rug maker, American Floor Mats, is responsible for the error, and is working to provide law enforcement with a replacement product in exchange for the wrongly-worded rug issued on accident.
Sheriff's office spokesperson Cristen Petersburg told USA Today that the original proof sent to American Floor Mats verifies that police wanted a rug referencing God and not, in fact, puppies.
According to the paper, the rug is valued at $500 – roughly the cost of 10 obedience classes offered by a business that might actually want the item: 'In Dog We Trust' – a "modern positive reinforcement dog and puppy training" school in central Maine.
Meanwhile, social media users have been pleading with the Pinellas County Sheriff's Office on the agency's Facebook page for a chance at acquiring an unusual collector's item that appeals to both dog lovers and law enforcement officers.
"You should auction off those misprint rugs and donate the money to the local no kill shelter or rescue," wrote one online commentator. "Maybe the Sheriff's Office could sell or auction the rugs off with the proceeds going to the Pinellas Humane Society or some rescue organizations," added another.
Another social media account, this one belonging to the Pit Bull Happenings Rescue group, suggested the sheriff's office simply keep the rug, no bones about it.
"The positive opportunities are aplenty," it commented on the sheriff's office's Facebook page.
"This is especially important now considering all the publicity that happening regarding the relationship of the dogs of our communities and the law enforcement agencies nationally. Whether they keep for the Sheriff's Office or donate to a worthy cause or auction...this 'rug' can produce positive energy if allowed."
You can share this story on social media: