Snowden documentary 'Citizenfour' nominated for Oscar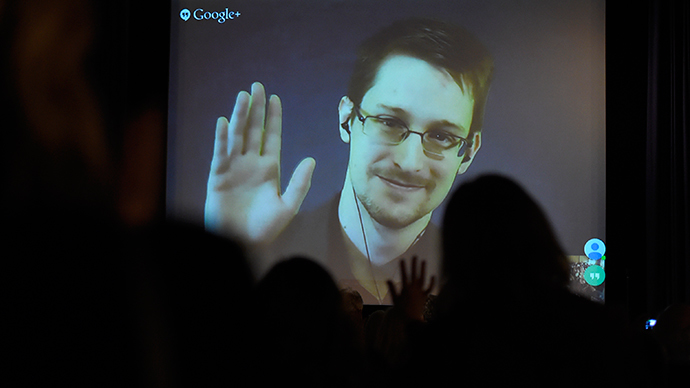 ​'Citizenfour,' the Laura Poitras-directed documentary about former United States government contractor Edward Snowden, is officially in the running for an Oscar.
The Academy of Motion Picture Arts and Sciences revealed nominees on Thursday for its big 2015 awards show, and the acclaimed movie about Snowden's 2013 trip to Hong Kong and his meeting there with Poitras and journalists has been named a contender in the "Best Documentary" category.
"You know the public response, and in the press, has been pretty extraordinary for us," Poitras told the New York Times. "We didn't know what to expect. We made a film that was unknown outside of a very small circle, and there was a lot of uncertainties. It's been pretty incredible to see this happen."
Citizenfour is up against 'Finding Vivian Maier'; 'Last Days in Vietnam'; 'Salt of the Earth' and 'Virunga.'
'Life Itself' – a feature-length documentary on late film critic Roger Ebert – did not make the final cut, to which Poitras called "a heartbreak."
"I'm in shock," she told Variety. "When his name wasn't up there, I thought, 'how is that possible?' He's a legend in our field with an incredible body of work. I assumed his film would be nominated, so it's a bit of a heartbreak."
Glenn Greenwald – the Pulitzer Prize-winning journalist who is featured predominately in the film working with Snowden on reviewing a cache of classified government secrets provided by the former NSA employee – tweeted "Congrats to my brilliant colleague Laura Poitras!!!!" on Thursday.
Congrats to my brilliant colleague Laura Poitras!!!! CITIZENFOUR nominated for Best Documentary Oscar!

— Glenn Greenwald (@ggreenwald) January 15, 2015
Snowden spoke first with Poitras, then with Greenwald, through encrypted emails while working as a government contractor in early 2013. Soon after, he arranged to meet the two in Hong Kong, where much of Citizenfour is set. Snowden spent several days reviewing pilfered NSA documents with the journalists before he boarded a plane that landed in Moscow, where he has since stayed after having his US passport revoked. Snowden, 31, is wanted in the US on charges of espionage related to the theft of the NSA documents – the likes of which have revealed a startling number of the intelligence community's secrets since first being reported by the media in June 2013.
You can share this story on social media: