Mourners protest Colorado pastor who refused to perform funeral for gay woman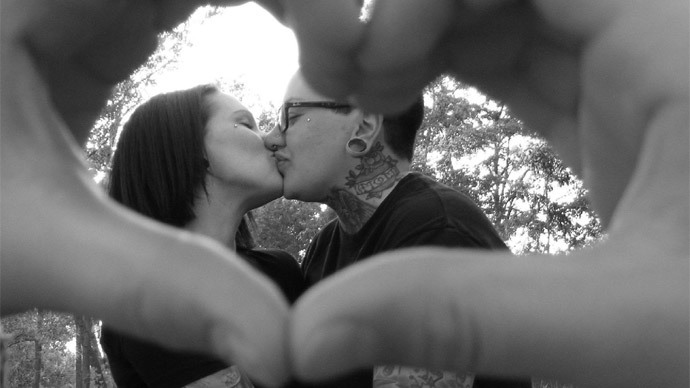 The pastor at a Colorado church stopped a funeral mid-service and would not resume unless photos of the deceased woman with her family were removed. The church leader refused to perform the ceremony as long as a display showed the woman was gay.
Pastor Ray Chavez abruptly halted Sunday's funeral for 33-year-old Vanessa Collier after hundreds of her friends and family had gathered in the sanctuary at New Hope Ministries in Lakewood, Colorado. He informed the mourning family that the service for Collier would not be able to go on due to the "inappropriate" photo montage that Collier's family had placed at her casket, relatives told ABC News.
Photo from Vanessa Collier funeral - http://t.co/xWh2jJnn3Rpic.twitter.com/dJA5tdZ3Rz

— Lennie Jarratt (@ljarratt) January 14, 2015
The video showed Collier kissing her wife, Christina Higley, on the lips. Another photo in the montage showed Collier down on one knee, proposing to Higley. The family would have to edit out the photos in order to proceed, Chavez reportedly told them. The footage also included the couple with their two children, ages 12 and 7.
Here is a photo of Vanessa Collier, far left, with her wife and girls, 12 and 8. pic.twitter.com/NYTRAT4nbU

— Jesse Aaron Paul (@JesseAPaul) January 13, 2015
"People started taking their seats at 10 a.m.," Collier's friend, Jose Silva, told KMGH. "At 10:15, the pastor said, 'Due to technical difficulties, the funeral is being moved.'"
The deceased's mourners refused to edit the video, and moved the funeral across the street to Newcomer Funeral Home instead. Collier's open casket had to be closed, placed in the hearse, and driven across the street, while the family carried the flowers and photos that had been on display in the sanctuary, ABC News reported.
"180 people had to squeeze into a room that held about 60 people," Jessica Maestas, a cousin who helped Collier's mother arrange the funeral, said.
"Imagine this," Silva told KWGN. "There's the casket, and the pall bearers are trying to shut everything in, close the casket and move it after being told they have to do so. That is not dignified."
"It was humiliating," Victoria Quintana, Collier's longtime friend, told the Denver Post. "It was devastating."
Many of those closest to the couple are lesbians who "already were accustomed to dealing with the social and political challenges of their sexual orientation," the Post reported. "Then last weekend, as they mourned, they were confronted with a church that wouldn't let them celebrate Collier's life because of what the minister called an 'alternative lifestyle.'"
PieceOfShitReligion! Church refuses funeral of gay woman during service #Denver#PastorRayChavez#newhopeministrieshttp://t.co/DnTpQXooFX

— Gary Cvitanovich (@Cvitanovich) January 14, 2015
Chaplain Gary Rolando presided over the ceremony at the funeral home. He told KUSA that New Hope Ministries is very community-oriented, and that pastors there welcome those who are gay but ask that alternative lifestyles be censored in the church.
"They don't want overt, open homosexuality in their sanctuary," the chaplain told KGMH, noting that he is a friend of Collier's father and is not affiliated with New Hope Ministries.
@nhmofdenver#PastorRayChavez is the newest member of the #Assholes4Jesus Club 4 ruining funeral of #VanessaCollierhttp://t.co/xxkA2VgmZY

— David Clarke (@davidclarke76) January 14, 2015
"The church policy is that people with alternate lifestyles can have services, but there can be no pictures or videos of overt kissing or hugging," Rolando told the Associated Press. "I understand both sides. The family wanted to honor Vanessa, and the church has to answer to its board and the members who pay their bills."
Collier's friends said the family still hasn't been reimbursed by New Hope Ministries for the cost of the funeral, the Post reported. But Rolando told KGMH that the church walked the $400 over to Newcomer Funeral Home on Monday. "New Hope is very sorry. It's very sad that it happened the way that it did," he added.
Nothing can be said for those who use God to dehumanize another in death. we STAND for Vanessa Collier. RT pic.twitter.com/gcMnoIWrIW

— Rainbow Noise Ent (@RainbowNoiseEnt) January 14, 2015
Collier's wife struggled with emotions and how to clarify the situation to their children.
"Vanessa and I were together for three beautiful years," Higley wrote in an email to KWGN. "Our daughters are 12 and 7. Having to explain to them why we had to leave was completely heartbreaking."
Wife of Vanessa Collier: "Please I am begging anyone to help explain to our children why our family is any less than anyone elses."

— Jesse Aaron Paul (@JesseAPaul) January 14, 2015
About four dozen family and friends held a 'Dignity in Death Rally' Tuesday in front of New Hope Ministries in honor of Collier. They chanted, "Give us an apology!" and "Shame on Pastor Ray!" Security guards were stationed in front of the building to ensure none of the marchers made their way onto the property, the Post reported.
"@JesseAPaul: About four dozen people here in support pic.twitter.com/p7fcnRniLc" #VanessaCollier

— Embee (@SugarcubeDog) January 13, 2015
"Sitting there, watching your friend being packed up and shuttled out of a church was just horrific," Silva told ABC News. "I organized the march because I wasn't going to let this be the memory of her death. Love is love."
He told KUSA that because the church receives public funding for its school and rehabilitation center, its "personal values and beliefs go out the window because that's a separation of church and state."
Family: #Lakewood church stops woman's funeral because she was gay #LGBThttp://t.co/fhHYxFl8TGpic.twitter.com/Sfbq3llC5L

— Jesse Aaron Paul (@JesseAPaul) January 14, 2015
Collier died in December when her gun went off while she was cleaning it. Thornton police say the mother of two may have committed suicide.
You can share this story on social media: