DOJ won't ask Risen to testify at espionage trial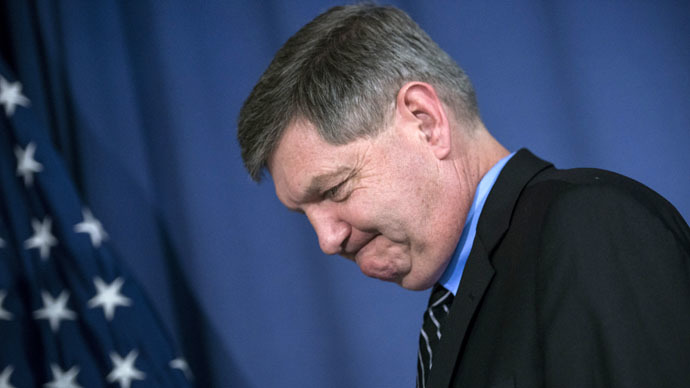 Pulitzer Prize-winning journalist James Risen will not be asked to testify at the upcoming trial of a suspected source, former CIA employee Jeffrey Sterling, ending for now the writer's seven-year-long ordeal with the Department of Justice.
On Monday, US prosecutors said they won't call Risen to the stand when the government's federal espionage trial against Sterling begins this week. Jury selection is scheduled to start Tuesday.
The Justice Department has long sought testimony from Risen in hopes of having the writer confirm that Sterling, a former intelligence agency operations officer, unlawfully disclosed classified intelligence about the Iranian nuclear program described in Risen's 2006 book, State of War. But the writer has refused to answer as to the identity of his source, deferring subpoenas issued under two different presidential administrations and repeatedly and publicly defying the government's requests.
"Mr. Risen has indicated under oath, without hesitation or equivocation, that he will not answer questions that go to the heart of the case. As such, he is unavailable for purposes of the trial and neither party should be permitted to call him as a witness," prosecutors wrote in a motion filed Monday in US District Court for the District of Colombia.
"Mr. Risen's under-oath testimony has now laid to rest any doubt concerning whether he will ever disclose his source or sources for Chapter 9 of State of War (or, for that matter, anything else he's written). He will not. As a result, the government does not intend to call him as a witness at trial. Doing so would simply frustrate the truth-seeking function of the trial," the prosecution wrote.
At one point, Risen risked the possibility of serving jail time for refusing to testify in the case against Sterling, who is accused of violating the espionage act by leaking CIA intelligence. Attorney General Eric Holder said last September that the DOJ would not seek imprisonment, though, easing the government's pressure on the journalist for the first time since they first subpoenaed him seven years earlier.
"We said from the very beginning that under no circumstances would Jim identify confidential sources to the government or anyone else," Joel Kurtzberg, an attorney for Risen, told the New York Times on Monday. "The significance of this goes beyond Jim Risen. It affects journalists everywhere. Journalists need to be able to uphold that confidentiality in order to do their jobs."
Josh Gerstein, a reporter for Politico, wrote that "[t]he herky-jerky nature of the prosecution's approach could reflect the lingering consequences of a disagreement between trial prosecutors and senior Justice Department officials, such as Holder. Trial prosecutors usually want all available evidence to prove their case. It is unclear what the trial team's reaction was to Holder's decision to rule out questioning Risen directly about his confidential sources and to take off the table the threat that Risen would be thrown in jail for contempt for refusing to comply with the prosecution subpoena."
Sterling was the fifth government employee to be charged by the Obama administration under the Espionage Act of 1917 for allegedly leaking government information.
You can share this story on social media: