3-alarm blaze at NYC's Penn Station causes train delays, cripples rush-hour traffic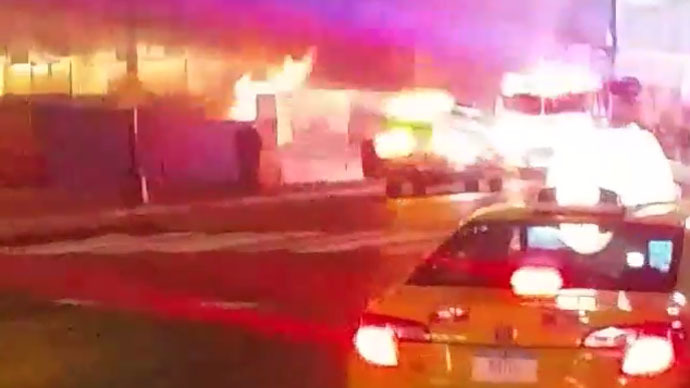 It took 100 firefighters to bring a fire at New York's Penn Station under control. Trains had to be delayed because of the incident, which luckily resulted in no injuries.
It was a 3-alarm blaze, the NYC Fire Department (NYFD) reported on Twitter. Three hours passed in between its first posting on the incident and the tweet reading the fire was "under control."
MAN 3-ALARM W 33 ST, FIRE BELOW GRADE AT SUBWAY STATION AT W 33 ST AND 8TH,

— FDNY (@FDNY) January 13, 2015
Big fire on 34th ST.. Shit crazy ...

A video posted by Kenyel (@___ninoblak___) on Jan 12, 2015 at 11:41pm PST

New York subway A and E trains were instructed not to stop at Penn Station due to the fire.

The fire was inside the station, located at West 33rd Street and 8th Avenue in Manhattan, according to the Fire Department.
The flames could nevertheless been seen on the ground, as is seen in pictures taken by passers-by.
3 alarm fire near Penn Station is causing traffic & subway delays. We're Live @NBCNewYork at 430 #nbc4nypic.twitter.com/rhHFUc6jLk

— tracie strahan (@tstrahan4NY) January 13, 2015
There have been reports that the fire started at a construction site for the Long Island Rail Road (LIRR).

Firefighters had to seal off roads around Penn Station, leading to traffic problems in the morning rush hour.
@NYCityAlerts@NYCFireWire@NYCEMSwebsite Box 8171: 3rd alarm in Manhattan pic.twitter.com/2sbV1h5MwE

— Moses Nelson (@HazTac_Medic) January 13, 2015
It's not yet clear what caused the fire.
READ MORE: Woman dies in Washington DC metro smoke incident
"BREAKING: 100 firefighters battle 3-alarm blaze at NYC's #PennStationhttp://t.co/3IGJZWfd72pic.twitter.com/8RdgJG0NDM" rt@RT_America

— ✡ ELZA_NEWS ✡ (@elza_news) January 13, 2015
Penn Station 3-alarm fire causing subway services changes http://t.co/KjXTXAhu6qpic.twitter.com/hWiE2IFWxj

— PIX11 News (@PIX11News) January 13, 2015
You can share this story on social media: