US Attorney: Fear of lone wolf attack keeps me up at night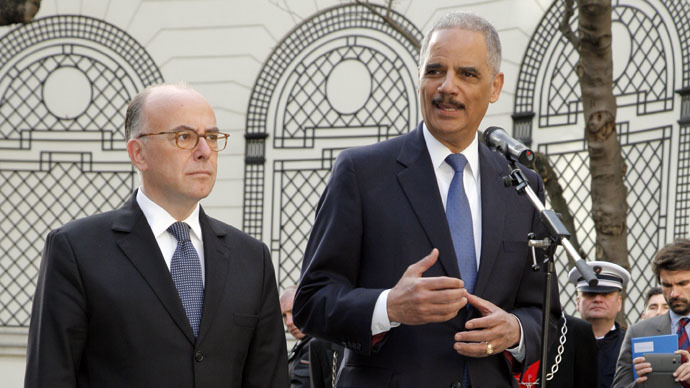 US Attorney General Eric Holder said that even though the "decimation" of Al-Qaeda's core has compromised the group's ability to carry out another 9/11, the possibility of new terror attacks in America is still present.
Holder told CBS's "Face the Nation" program that key affiliates like Al-Qaeda in the Arabian Peninsula (AQAP) have called on people to carry out smaller attacks.
"They have inspired people negatively around the world to engage in these really small attacks that involve only one or two people, a small number of arms that can have a devastating impact as we have seen in France. We have been in this phase of the fight against terrorism for some time," he said.
Holder spoke from Paris, where he met with law enforcement counterparts from around the globe after 17 people were killed by Islamist militants in several attacks in the French capital last week.
"I think the possibility of such attacks exists in the United States," Holder told Bob Schieffer.
"It is something that, frankly, keeps me up at night worrying about the lone wolf or a very small group of people, who decide to get arms on their own and do what we saw in France this week," he said.
Holder said authorities haven't yet determined whether AQAP or a group like the Islamic State was responsible for the deadly Paris attacks. According to several senior Yemeni sources, the two brothers who carried out the attack on Charlie Hebdo, went to Yemen in 2011, where AQAP is based, for weapons training, Reuters reported. Meanwhile, Amedy Coulibaly, the gunman who perpetrated the attack on a Paris kosher grocery, earlier appeared in a video pledging his allegiance to the Islamic State group.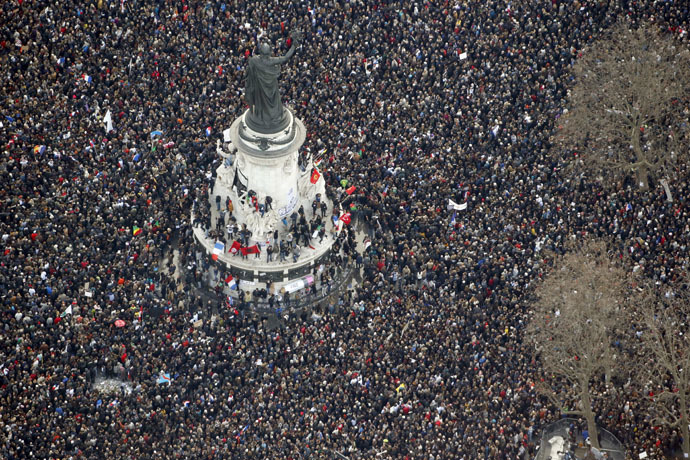 The French prime minister said on Saturday that his country was at war with radical Islam. "It is a war against terrorism, against jihadism, against radical Islam, against everything that is aimed at breaking fraternity, freedom and solidarity," Manuel Valls said.
READ MORE: March for Unity: Over 40 world leaders, 'up to 3mn' rally in Paris against extremism
Up to 1.6millon people, over 40 world leaders among them, took to the streets of the French capital on Sunday in an act of solidarity. Much to everybody's surprise, US President Barack Obama did not join British Prime Minister David Cameron, German Chancellor Angela Merkel and Israeli Prime Minister Benjamin Netanyahu, just to name a few, to pay tribute to the victims of the Islamist attacks. Following wide criticism of the Obama administration for not sending a senior official to Sunday's rally, Secretary of State John Kerry said on Monday he will travel to Paris "to make it crystal clear how passionately we feel about the events that have taken place there."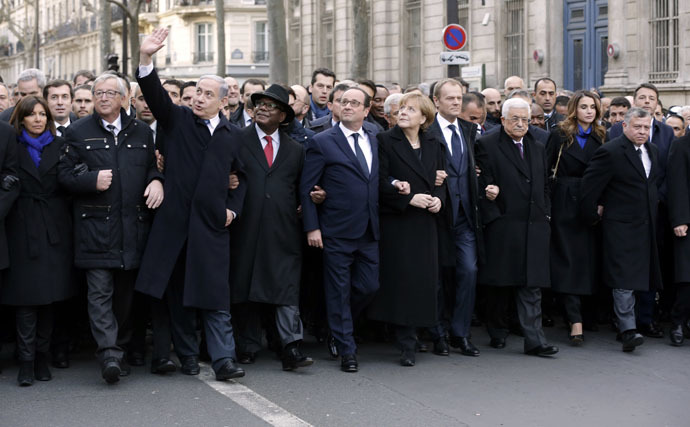 Holder, who appeared on four Sunday TV shows, said that while America, France and other allies have been sharing information on potential terrorists, "there's a greater need for us to share information, to knock down these information-sharing barriers, so that we can always stay on top of these threats," he told ABC.
"One nation cannot by itself hope to forestall the possibility of terrorism even within its own borders," he told "This Week" program.
He also told CNN's "State of the Union" that about 150 Americans had gone or attempted to travel to Syria or Iraq to fight with militants there, and about a dozen were there right now.
On February 18, the White House is set to convene a summit in Washington DC in a bid to eradicate violent extremism.
You can share this story on social media: