Distraught 'armed' parent sparks huge police response at Texas hospital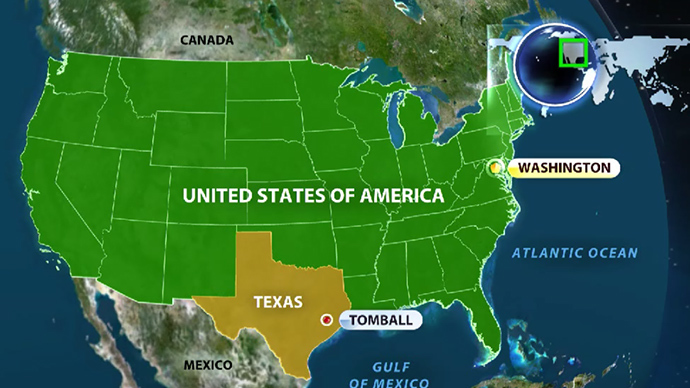 A distraught man sparked fears of a potential hostage crisis at Tomball Regional Medical Center in Texas. A SWAT team and some 50 police cars were dispatched to the scene, but police say the man surrendered without incident.
The man had barricaded himself inside his son's hospital room and refused to comply with police commands, according to a statement by Harris County Sheriff.
It turned out that he was not armed, but made a threat that triggered a lockdown and sent police into action.
HCSO: standoff at hospital now over, suspect in custody, was not armed, made threat that put hospital on lockdown. pic.twitter.com/Nkf9TWta3K

— Tim Wetzel (@KHOUTim) January 11, 2015
Earlier, authorities said that at least two people were taken hostage on Saturday night at the hospital, which is near Houston.
ACTIVE SITUATION: Gunman Takes Hostages at Tomball Hospital in Texas [DEVELOPING] - http://t.co/vgErVHdYiRpic.twitter.com/ORZezK2MUI

— THE CREW (@THEAlleyeceeing) January 11, 2015
The situation began around 7pm local time, AP reported, citing an emergency dispatch center official.
Police said around 11 pm the individual was in custody and the hospital, which is situated about 30 miles northwest of Houston, was no longer under lockdown.
#Tomball Hospital #Texas Hostage situation taking place in critical care unit. Gunman is distraught father of patient pic.twitter.com/io5zXdPUiM

— Mark Day (@1310NewsDay) January 11, 2015
Harris County Sheriff's Lt. Joe Ambriz was quoted by AP as saying a threatening situation arose at the medical facility, but wouldn't describe it or any details about the patient's condition.
Photo: SWAT team gearing up to respond to the hostage situation at a hospital in Texas (via @AnoushahKPRC) #Tomballpic.twitter.com/UipWYIlXC7

— Andrew Peng (@TheAPJournalist) January 11, 2015
You can share this story on social media: