Snow squalls cause massive car pileup in New Hampshire (PHOTOS)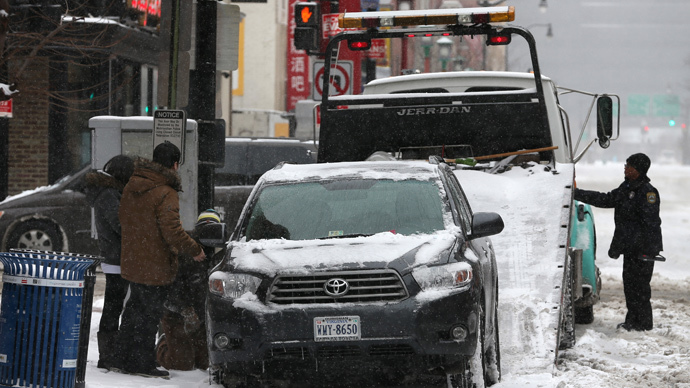 At least 35 cars got into a massive pileup in New Hampshire on Friday due to a fast-moving morning storm that induced snow squalls and icy slick.
The crash at Interstate 93 took place in Ashland at around 10 AM local time, the New Hampshire Department of Transportation said. According to some reports, up to 100 cars could be part of the massive crash.
Snow squalls lead to massive pileup on New Hampshire highway http://t.co/hD0bHyzhlXpic.twitter.com/nEDuoUw6Xi

— CTV News (@CTVNews) January 2, 2015
The pileup happened in the northbound lanes, which were closed to traffic by the road police.
"We had a snow squall go through around 9:45 a.m. ET this morning, which typically will reduce visibility," said State Police Lieutenant Jerome Maslan.
The police said that were reports of multiple injuries, without specifying their numbers and character. At this point, no fatalities have been reported in the chain reaction crash.
Yikes. RT @fox25news#Skyfox captures a shot of some of the cars involved in the Ashland, NH pileup on I-93 pic.twitter.com/Ig84PQgZPl

— Eric Wilbur (@GlobeEricWilbur) January 2, 2015
The highway remained closed as of midday on Friday, though crews were working to reopen it.
BREAKING NEWS: Massive pileup involving 50 to 100 cars on I-93 northbound in Ashland, NH. Photos via Ben Baldwin. pic.twitter.com/3iTJ7PxF7z

— Breaking News Feed (@PzFeed) January 2, 2015
It's not the first time Interstate 93 is being paralyzed by a snow related crash as five people were injured in a 20-vehicle pileup in 2012.
Back in 2009, a 59-vehicle crash led to a dozen people being hurt.
You can share this story on social media: