​Tiger selfie bans and rape kit rules among new laws for 2015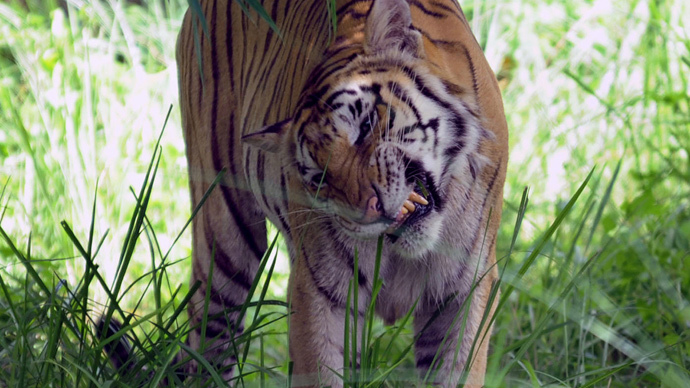 The New Year means a lot more than just updated calendars: across the United States, law books are being amended with an array of new legislation that went into effect on January 1, 2015.
From raising the minimum wage in 20 states (and the District of Columbia), to lowering the age at which Louisianans can register to vote, Americans from coast-to-coast can expect new laws kicking in this week to bring changes across the board.
In California — where 930 new laws are being added this year, according to the San Francisco Chronicle — residents are readying for all sorts of new rules that stand to alter everything from DMV procedures to "selfie" protections. The Golden State isn't the only place with a bevy of new laws, though, and RT has put together a look at some of the more significant — and silly — new rules for 2015.
With regards to the environment, New Yorkers can no longer throw away laptops, video game consoles and certain television sets as a result of an "e-waste" law now on the books that outlaws Empire State residents from wrongfully disposing of high-tech electronics. One new law out west will see to it that California gets groundwater regulation standards put in place for the first time in the state's history, while fracking bans passed recently in parts of Ohio, Texas and California have finally gone into effect, outlawing the hydraulic fracturing procedure in select counties in those states. Meanwhile, Californians from San Diego to Santa Rosa will have to endure another new fracking this, this time by means of a statewide rule requiring oil and natural gas companies to disclose how much water they pump into the ground when they partake in the often controversial resource extraction process.
Car owners can expect a lot of changes, too, depending on where in the US they drive. Students caught consistently absent from school in Nevada could be kept from receiving a driver's license under a new law now in effect there, and California will now for the first time issue licenses to non-Americans who entered the country illegally.
"I'll be very happy because I have driven for a long time and it's too hard to live in this country without driving," Edward Wahba, a San Gabriel resident from Egypt, told the Los Angeles Times on Friday morning from a Department of Motor Vehicles office in South LA.
At least two states are enacting laws this week involving the rape kits used by law enforcement officers during sexual assault investigations as well. In Michigan, health workers will have to immediately tell alleged assault victims about the availability of any rape kits instead of the current 24-hour window in place. Similarly, police in Louisiana must now keep strict track of how many such kits are in law enforcement possession at any time. Back in California, meanwhile, "an affirmative, conscious and voluntary agreement to engage in sexual activity" is now required between college students to count sex as being consensual, while the state's ban on "revenge porn" has been expanded to not only let victims seek court orders to have offensive material removed, but also to prohibit the unauthorized postings of sexually explicit selfies uploaded by anyone other than the victim.
Elsewhere, a whole other sort of selfie is soon about to be against the law: starting in February, it will be illegal to pose for photographs with lions, tigers and other exotic large cats. "They can still pose with bears and monkeys," Assemblywoman Linda Rosenthal, a Democrat, told the NY Post back in June when the law was first passed. "They just have to take big cats off their list." According to the Post, "hugging, patting, or otherwise touching" tigers at fairs or circuses will become against the law next month when that rule goes into effect.
You can share this story on social media: