Demonstrators arrested during protest at St. Louis police headquarters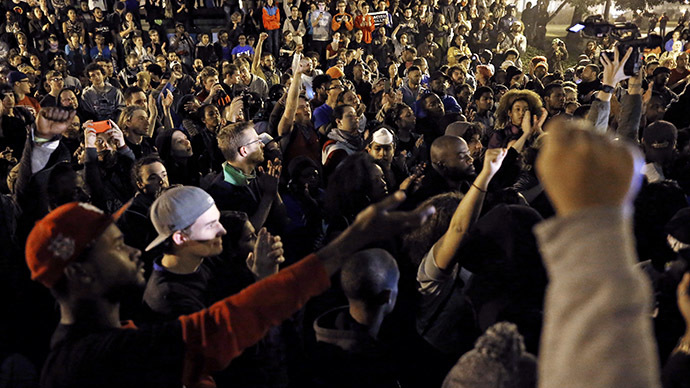 Police in St. Louis, Missouri arrested demonstrators during a mid-day protest on New Year's Eve that was held in an effort to address the community's grievances against local law enforcement.
At least five protesters were apprehended early Wednesday during a demonstration inside of St. Louis Metropolitan Police Department headquarters, KTVI reported, and a protest held later in the afternoon on a downtown street saw arrests as well.
Local activist DeRay Mckesson tweeted video and images from St. Louis throughout Wednesday's events, beginning with an occupation late in the morning inside the Metro PD's headquarters in which roughly two-dozen protesters entered the building
Metro PD. Occupied. Protest. #fergusonhttps://t.co/20iCrrX2y0

— deray mckesson (@deray) December 31, 2014
"We are informing you that the police department is being claimed by its citizens today," one demonstrator was recorded saying inside headquarters.
A symbolic "eviction notice" posted to the door of the building read that the police were to be "removed from power" for an array of reasons, including "perpetrating police brutality on our citizenry," "transforming the police force into a militarized occupying force" and "being complicit in mass incarceration of black and brown citizens."
Eviction Notice to the STL Metropolitan Police signed bel We The People pic.twitter.com/SHWAXHuAbd

— T Jessica (@ms_tjp) December 31, 2014
Around 100 others stayed outside of the building during the occupation, Mckesson wrote on Twitter, and police soon after starting issuing arrests and using pepper-spray on protesters, as well as, according to Mckesson, a reporter for The St. Louis Post-Dispatch.
"When more protesters tried to rush into the front doors, officers linked arms and grabbed some by the shoulders and pushed them to the ground. Once the crowd backed up, officers used pepper spray, which hit multiple people," the paper reported.
Free the people. Pepper spray. America. Metro PD. https://t.co/K1sVc2eTpG

— deray mckesson (@deray) December 31, 2014
Wednesday's action is only the latest in a string of protests to occur in the greater St. Louis region and across the United States in the wake of the August death of Michael Brown, an unarmed, black teenager who was fatally shot by a police officer in nearby Ferguson, MO. A grand jury's subsequent decision not to indict the officer involved, Darren Wilson, and similar incidents around the US in which white cops have been acquitted of killing black suspects has spawned a wave of protests in Ferguson and elsewhere, including the New Year's Eve demo in St. Louis.
Protests are scheduled for later in the evening in both New York City and Los Angeles, California — two locales where law enforcement have come under attack in recent months due to officer-involved killings. Demonstrations have occurred throughout the Big Apple since the July death of Eric Garner, a local man who died after being choked by a New York Police Department officer, and especially in the wake of a grand jury's decision on Dec. 3 not to indict the officer involved; in LA, protesters are expected to march on Wednesday evening once again in tribute to Ezell Ford, a mentally ill man fatally shot by the LAPD in August. Earlier this week, an autopsy revealed that Ford was shot by the police three times at close range.
You can share this story on social media: