How can drones save you from drowning? Ask Connecticut schoolchildren (VIDEO)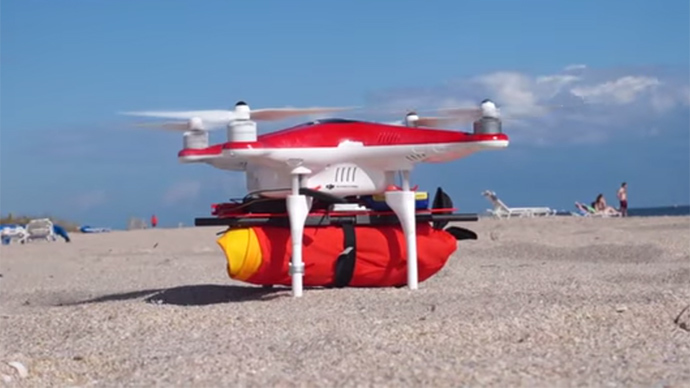 UAVs may be the most desired present for 2014, but their potential spans far beyond taking videos. Project Ryptide, designed at a private Connecticut school, is actually a self-inflating life ring that can snap onto a drone and fly to a person in peril.
Once the drone is flown to a person in distress in the water, the operator presses a button. As soon as the craft touches the water, a CO2 cartridge inflates the life ring.
What is perhaps most startling about the innovative accessory is that it wasn't designed by US military engineers working under orders from the Pentagon – but rather by a group of students from King Low Heywood Thomas school in Connecticut.
The students hope to launch the flying life ring on Kickstarter to raise funds in the New Year. Their model is to be compatible with the mass produced DJI Phantom Drone that retails at $99.
READ MORE: Drone that can save lives: Ambulance UAV hints at future of healthcare (VIDEO)
Another drone with lifesaving qualities is the ambulance drone, which is equipped with a defibrillator and can potentially save heart attack patients. The first test model was revealed at the Netherlands' Deft University of Technology in October.
You can share this story on social media: