Family of man killed by California cops claim racial profiling in shootings of 4 Latino men
Published time: 26 Dec, 2014 17:46
Edited time: 26 Dec, 2014 17:47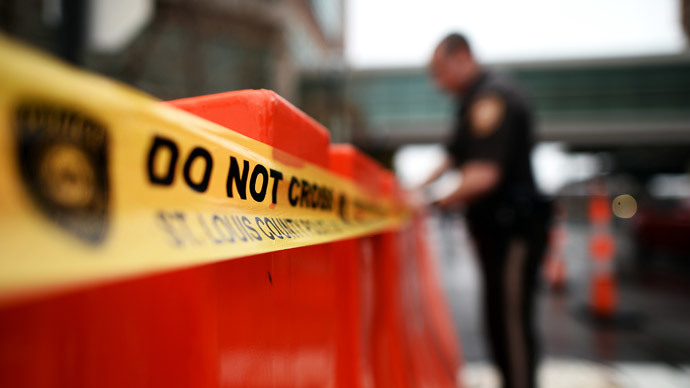 The family of a man fatally shot in May by police in Salinas, California, have filed a federal lawsuit against the city, claiming racial profiling has played a part in police killings of four Latino men in the space of five months.
The family of Carlos Mejia, killed by Salinas police on May 20, filed the federal lawsuit on December 23, in the US District Court for the Northern District of California. They claimed Mejia's death and the fatal police shootings of three other men signified "an entrenched posture of deliberate indifference" to Latinos.
Mejia was the third man fatally shot by law enforcement in the string of four shooting deaths after Angel Ruiz, killed on March 20, and Osman Hernandez on May 9. Frank Alvarado was shot dead by police on July 7, according to the complaint.
On May 20, police were called after Mejia allegedly broke into a home, exposed himself to a woman, and attacked her dog, according to the Monterey County Weekly. Mejia's family has claimed he was going door-to-door looking for work.
The Mejia family said when officers Danny Warner and Josh Lynd, both named in the lawsuit, confronted Carlos he walked away. After two failed attempts to use a Taser on Mejia, according to KSBW, the officers drew their weapons.
Carlos faced police from a distance of about 5 to 10 feet holding the backpack and gardening shears, his family said. When he made a "slight movement," he was shot, they said in the suit, according to Courthouse News. Carlos Mejia died at the scene.
"The decedent's [deceased's] body lay on the street uncovered for several hours in plain view, intimidating witnesses and the community alike," the complaint stated.
"[Mejia] complied with the officers' commands," says the lawsuit, filed by civil rights attorney John Burris, according to the Monterey County Weekly.
Mejia's shooting death riled the community, as coincidentally on that very day, May 20, activists had already planned a protest at the Salinas City Hall over the fatal shooting of Hernandez a couple of weeks earlier.
Mejia's family claimed in the suit that the shooting deaths came under "questionable circumstances" amid "an official policy, entrenched culture and posture of deliberate indifference toward protecting citizen's rights."
Video footage and eyewitness accounts, they said, counter the officers' stated justifications for use of deadly force against all four men. They also alleged that the Salinas Police Department has routinely condoned use of excessive force while failing to discipline rogue officers.
Mejia's brother, Jose Roberto Mejia-Gomez, his father, Elias Mejia-Baires, and Carlos' 8-year-old daughter are plaintiffs in the suit. The young girl is not named in the suit, but is represented by activist Margaret Serna Bonetti.
The Mejia family is seeking punitive damages for wrongful death, gross negligence and civil rights violations, amongst other claims.
Salinas City Attorney Chris Callihan didn't comment to the Monterey County Weekly, as the city had yet to be served with the suit.
A Salinas Police Department investigation into Mejia's killing is ongoing, according to reports.