Blogger films how homeless man spent $100 on charity, raises over $94k in crowdfunding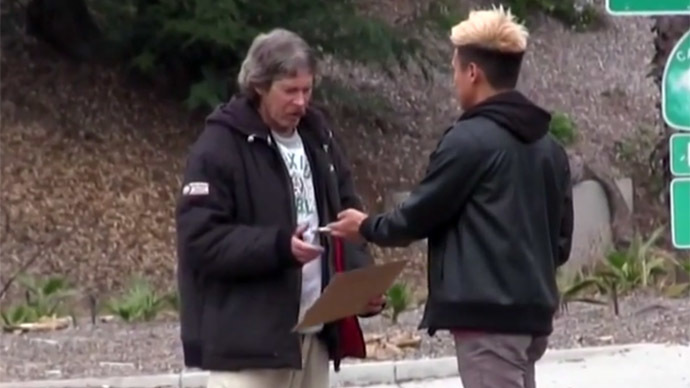 A blogger gave a homeless guy $100 – and filmed an unexpected twist, as the man decided to help others with the money. The video went viral, and a crowdfunding campaign to get the homeless man back on his feet has raised over $94k and counting.
READ MORE: Judge allows evicted RBS 'love activists' in London to serve homeless Xmas dinner
The experiment began with Los Angeles-based video blogger Josh Paler Lin giving a homeless man named Thomas $100 with no strings attached.
After getting the money, Thomas headed into the liquor store – but not to buy booze. Instead, he purchased food and distributed it at a nearby park to other poor families.
The result was so unexpected that the blogger gave Thomas another $100 and decided to set up a crowdfunding campaign to help him get back up on his feet. As of December 25, it has attracted $94,794 in funding.
The campaign still has 27 more days until it expires.
"Off camera I took him out to eat because I wanted to know more about him because he was so genuine, such a nice guy," Lin told RT. "He told me that he wanted to get back to work, but it is so hard for people like him in that position, when you have no money, no home, no family to help you. It is hard for him to get back to what he wants to do."
"With this campaign, I want to do three things for him. The first one is getting him a cellphone, second I want to get him a house or an apartment, maybe six months or a year — a place that he can call home, and finally I want to help him find a job," Lin said.
Lin's video, published on YouTube on December 22, went viral, gaining over 20 million views at the time of writing.
Thomas told Lin that he has been homeless for four months.
He quit his job to take care of his parents, who both fell ill. After they passed away, the insurance company did not cover all the medical care costs, so their condo was sold to pay the bills, leaving Thomas homeless.
"There's a lot of people that are just victims of circumstance and they didn't go homeless because they're lazy or...it could be a divorce, one thing leads to another and the man sells his boat, his home, everything, and all of a sudden he finds out he's got no money. There's a lot of good people that are homeless," the man told Lin.
READ MORE: Anti-homeless cages installed around benches in French city on Christmas Eve
You can share this story on social media: