Gunfire reported at St. Louis protest in wake of Berkeley police shooting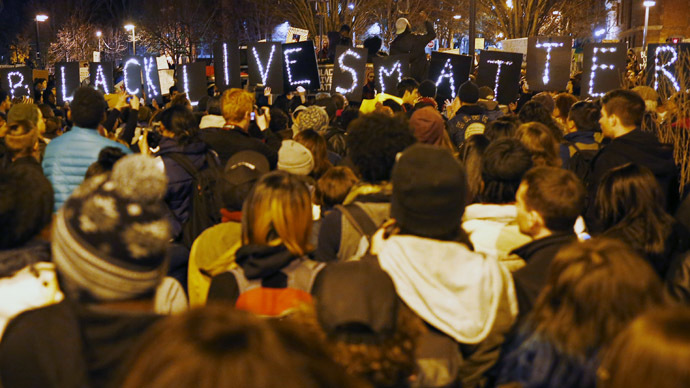 A few dozen protesters rallied in front of a gas station in Berkeley, St. Louis on Wednesday night, where an allegedly armed black teenager was shot by a police officer. They faced off against a phalanx of officers, and gunfire has been reported.
READ MORE: St. Louis police release footage of fatal Berkeley shooting
While the night began peacefully, bursts of violence were reported on social media in the city of Berkeley; an inner-ring suburb of Saint Louis, Missouri. Reporters, including RT's Marina Portnaya, said they heard gunshots. Police have generally cleared the area, and no injuries have been reported.
Horrible standoff between cops and demonstrates in #Berkeley right now. Gunfire heard. Cops trying to clear scene pic.twitter.com/wjaNXDRB5L

— marina portnaya (@portnayanyc) December 25, 2014
Police blocking off gas station where #AntionioMartin was fatally shot. Dozens of demonstrators on scene. #Berkeleypic.twitter.com/XzX5dAopZR

— marina portnaya (@portnayanyc) December 25, 2014
There have also been reports of police using mace on protesters.
Police orders to leave the parking lot in #Berkeley arresting 2 people #AntonioMartin#Fergusonpic.twitter.com/9TD7OtzhZ1

— Paulina Leonovich (@Polly_evro) December 25, 2014
At one point during the evening's events, demonstrators interrupted traffic by blocking streets and marching down a local highway. In footage captured at the scene, police, some of whom are partially dressed in riot gear, can be seen taking away protesters who have been restrained with zip ties. The exact number of arrests remains unknown.
Protesters facing the police line #Fergsuon#AntonioMartinpic.twitter.com/YbLFlyUfgt

— Paulina Leonovich (@Polly_evro) December 25, 2014
The protest follows an altercation on Tuesday night, in which an allegedly armed black teenager, Antonio Martin, was shot and killed by a Berkley police officer.
Shit. #AntonioMartinhttps://t.co/PRmc4frIxE

— deray mckesson (@deray) December 25, 2014
St. Louis County Police Chief Jon Belmar said the officer was questioning Martin and another man at a Mobil gas station about a theft at a convenience store in the suburb when the young man pulled a 9mm handgun on him. The officer stumbled backward but fired three shots, one of which struck Martin.
Although the officer had been assigned a body camera, Belmar said he wasn't wearing it at the time, and the dashboard camera was not activated because the patrol car's emergency lights were not on. The 34-year-old officer, a six-year veteran of the Berkeley Police Department, is on administrative leave pending an investigation.
Photos of the handgun Antonio Martin allegedly pointed at officer before fatal shooting in #Berkeley Missouri. pic.twitter.com/4rFlIvzLcd

— James Hill (@JamesHillABC) December 24, 2014
There are three angles from surveillance video, but none show the complete version of what happened that night, with police deciding not to publish the moment in which Martin was shot. Based on a video released on Wednesday, it does appear that an individual who police have identified as Martin draws a gun on the officer. Due to the quality of the footage, however, it is difficult to identify either Martin or the object in his hand. In a second video released later in the day, the individual identified as Martin can be seen raising his arm, although his hand remains outside of the frame. The officer appears to raise his weapon as well, although no muzzle flash is visible when Martin falls down. A second suspect immediately flees the scene on foot.
A third video shows the officer frantically running backwards and falling to the ground immediately after the altercation takes place.
Police said Martin "was known to law enforcement" and had a criminal record that included three assaults and armed robbery.
Chase. https://t.co/kTpYTLkBlX

— deray mckesson (@deray) December 25, 2014
On Wednesday, Berkeley Mayor Theodore Hoskins stated that the Tuesday night shooting was not comparable to the killings of Eric Garner or Michael Brown, saying that Martin had pointed a loaded gun at the officer before deadly force was used.
"Its our duty to fight for our freedom" protesters chanting on Hanley rd at #Berkeley#AntonioMartin#Fergusonpic.twitter.com/8uiYWTciIn

— Paulina Leonovich (@Polly_evro) December 25, 2014
"We say 'black lives matter,' this was not the case," Hoskins said. "You can't even compare this with Ferguson or the Garner case in New York. ... We have the video and I can assure you that what's on the video is what we're going to use."
Gunfire reported at #StLouis protest in wake of police shooting http://t.co/5tzGkzVH0A#Berkeley#AntonioMartinpic.twitter.com/2WwvaqPtE0

— RT (@RT_com) December 25, 2014
According to Hoskins, who is African American, the St. Louis suburb of Berkeley doesno't compare to neighboring Ferguson, where both law enforcers and city administrators were largely white despite the population being mainly black.
"The mayor is black, the city manager is black, the financial director is black. And I believe the police chief is black. In a city that's 85 percent black, we are a majority of the police department. That's how we are different than the city of Ferguson. In addition there was no video in Ferguson. We have video," he said.
You can share this story on social media: