​Google, Microsoft battle Marriott's plan to ban personal Wi-Fi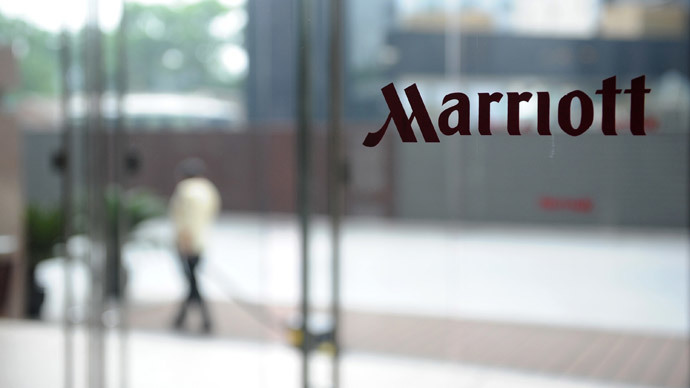 Despite being fined more than half a million dollars for blocking guests from using their own personal Wi-Fi, Marriott – along with other hotels – is pushing the government to legalize this behavior.
Standing in the hotel industry's way is not just the Federal Communications Commission (FCC), which Marriott is asking to rule in its favor, but also technology giants like Google and Microsoft. The two companies have teamed up with the wireless industry trade group CTIA to call on the FCC to reject the hotel industry's request, Re/code reported on Monday.
The whole debate dates back to a March 2013 complaint, in which consumers stated that Marriott's Gaylord Opryland Hotel and Convention Center was using technology that prohibited guests and exhibitors from setting up their own private hotspot on the hotel's premises. At the same time, the hotel was charging between $250-$1,000 for Wi-Fi access.
Marriott ended up settling the case with the FCC and paid a $600,000 fine – but the hotel insisted its actions were legal and asked regulators to reinforce its case. It was joined by the American Hospitality and Lodging Association.
In a statement, Marriott framed the matter as one of security.
"Marriott has a strong interest in ensuring that when our guests use our Wi-Fi service, they will be protected from rogue wireless hot spots that can cause degraded service, insidious cyber-attacks and identity theft," the hotel said. "Like many other institutions and companies in a wide variety of industries, including hospitals and universities, the Gaylord Opryland protected its Wi-Fi network by using FCC-authorized equipment provided by well-known, reputable manufacturers."
Google and Microsoft join wireless trade group in opposing hotel industry's FCC petition to allow blocking personal … http://t.co/olV1zo2XvP

— David Haddad (@daveying99) December 24, 2014
The hotel industry also defended itself, noting that it uses FCC-authorized equipment. It stated that it is not in violation of regulatory rules, even if the equipment "may result in interference with or cause interference" to consumer devices.
Now, companies like Google and Microsoft are pushing back, saying that FCC rules clearly prohibit what Marriott wants to do.
In its FCC filing, Google argued that Marriott's ability to manage its own networks has no bearing on the status of other, separate networks, and that it is not allowed to intentionally restrict access to them.
This was echoed by Microsoft and the CTIA.
"CTIA recognizes and appreciates that Wi-Fi operators have legitimate needs to manage their networks to protect them from malicious interference," the filing reads. "However, as described below, the Commission should deny Petitioners' request to give network operators blanket authority to shut down any and all" other consumer devices."
Under the FCC's rules, "No person shall willfully or maliciously interfere with or cause interference to any radio communications of any station licensed or authorized by or under this chapter or operated by the United States Government."
According to Re/code, those who are against the hotels also believe they are simply trying to remove options for consumers, limiting them to the services – and prices – that hotels themselves decide to charge for internet service.
You can share this story on social media: