Sony will let 'The Interview' play at 200 select theaters despite threats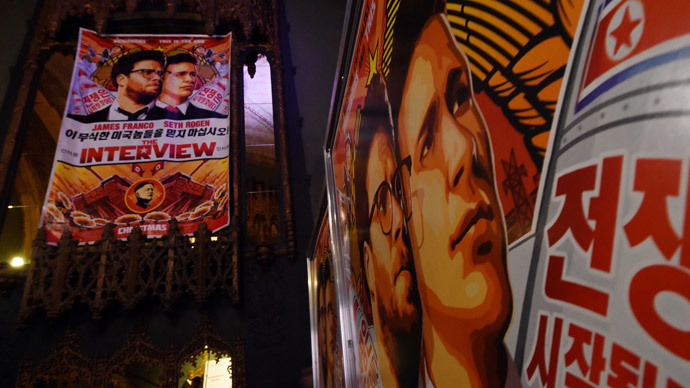 Some two hundred theaters will screen "The Interview" starting Christmas Day, Sony announced Tuesday, notwithstanding threats of terrorism and murmurings of an international cyberwar spawned by the controversial movie before it could even be released.
"We have never given up on releasing 'The Interview,' and we're excited our movie will be in a number of theaters Christmas Day," Sony Entertainment Chairman and CEO Michael Lynton said in a statement on Tuesday morning. "At the same time we are continuing our efforts to secure more platforms and more theaters, so that this movie reaches the largest possible audience."
A Sony spokesman later added that the list currently includes more than two hundred of theaters, Reuters reported.
White House spokesperson Eric Schultz told CNBC that US President Barack Obama "applauds Sony's decision to authorize screenings of the film" and reestablishes America as a country that "believes in free speech, and the right of artistic expression."
JUST IN: White House statement on Sony's decision to release 'The Interview' on Christmas Day in some theaters pic.twitter.com/uy99LqWt8j

— CNBC Now (@CNBCnow) December 23, 2014
"The Interview" — a comedy whose plot involves a plan to assassinate North Korean President Kim Jong Un — had long been scheduled to open in theaters across the United States on December 25. Sony pulled the plug on those plans last week, however, in the midst of an international scandal that has spread from Hollywood to Pyongyang and the world over.
A massive computer hack, suffered by Sony last month, has continued to cause embarrassment for the company, with pilfered emails being disseminated on the web. The breach has since been attributed by federal investigators in the US to North Korea. Although the Kim regime hasn't taken responsibility, a series of vague threats made over the internet against theaters, which planned to screen 'The Interview', led to Sony's decision last week to keep the film off movie screens as more and more cinemas expressed apprehension about showing it.
"I am sympathetic to the concerns that they faced. Having said all that, yes, I think they made a mistake," President Obama said last Friday of Sony's decision to nix the film. "I wish they would've spoken with me first. I would have told them: do not get into a pattern in which you're intimidated by these kinds of criminal attacks."
Now only four days later — and two days before its scheduled release — Sony says certain theaters will indeed show the movie starting at Christmas as they had originally intended.
"The people have spoken!" actor Seth Rogen, who stars in the film, tweeted on Tuesday. "Freedom has prevailed! Sony didn't give up!"
The people have spoken! Freedom has prevailed! Sony didn't give up! The Interview will be shown at theaters willing to play it on Xmas day!

— Seth Rogen (@Sethrogen) December 23, 2014
Sony's official acknowledgement came moments after Tim League, the chief executive of the Alamo Drafthouse movie theater chain, wrote on Twitter early on Tuesday that Sony had authorized screenings at certain venues. According to sources familiar with the decision who spoke with the New York Times, upwards of 300 smaller theaters could sign-on to show the film.
"I don't think anyone could have predicted how this whole thing would have played out," Alamo Drafthouse DFW programmer James Wallace told The Dallas Morning News. "Certainly not us! We tried to have some fun with an otherwise tough situation and then somehow became the unlikely champions for freedom of expression. The response has been truly overwhelming and we were all absolutely amazed by the international outpouring of support for cinema and freedom of expression."