Snowden and Poitras sued for making 'Citizenfour' doc on NSA leaks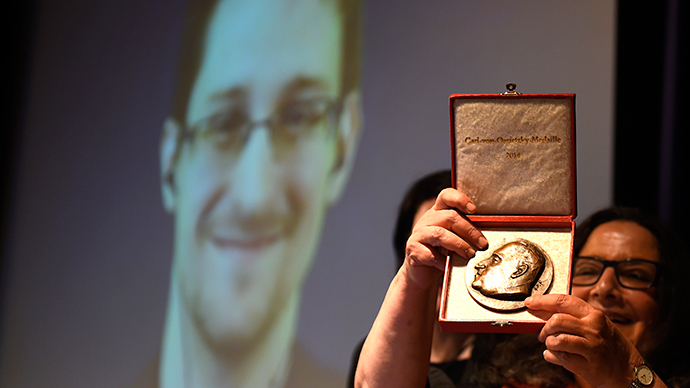 ​A recently released documentary about former government contractor Edward Snowden is being considered a potential candidate for the Academy Awards next year, but all isn't well for the team behind the flick "Citizenfour."
Attorneys representing a Kansas man filed a civil suit in District Court on Friday last week in which they allege that Snowden, movie director Laura Poitras and others involved in making "Citizenfour" intentionally violated federal law by profiting off of the disclosure of state secrets.
"This is an action on behalf of the American people to seek prompt imposition of the Supreme Court's essential financial remedy – a constructive trust – to redress unjust enrichment by ensuring that ill-gotten gains are disgorged," begins the civil action complaint. "This deters breaches of fiduciary duty, addresses irreparable damage to the safety of the American people and prevents dangerous disruption of foreign affairs due to irresponsible conduct of disloyal government operatives and entertainment industry collaborators."
According to the suit, Snowden and the film's production team ran afoul of a 1979 Supreme Court decision in which the nation's top justices agreed by a 6-3 vote that First Amendment rights don't protect Americans from instances in which their speech breaches any "constructive trust" existing between the government and an agent privy to its inner workings.
In the case of Citizenfour, the plaintiff — Horace B. Williams, a former secretary of the Kansas Department of Transportation and a retired Navy officer who once held a security clearance — says Snowden broke his agreement with the US government because he and the film crew will make a "covet financial gain for their misconduct," namely discussing classified documents in a manner that makes them available to potential audiences of "foreign enemies."
While Snowden's actions are illegal in their own right, the lawsuit alleges, Poitras, Praxis Films and other "Hollywood Defendants" listed in the complaint "glorifies international espionage for profit" and "have callously chosen to commercialize, capitalize and commoditize for the conscienceless benefit, the stolen CIA/NSA and other secret documents referred to and revealed in the film."
"Upon information and belief U.S. national security has been seriously damaged, human lives placed at risk or worse, and military and non-military assets compromised not just by Defendant Snowden's actions but also by the Hollywood Defendants' direct and indirect participation collaborating with Defendant Snowden to facilitate the dissemination of top-secret documents to foreign enemies," the complaint continues.
The disclosures contained in the film, the suit alleges later, could be worth upwards of billions of dollars, since they may necessitate the US government having to "protect human assets placed at risk, restore/revamp computer infrastructure, rebuild relationships with foreign governments and respond to various enemies' resurgence efforts, due to the blowback associated with the film and the release of classified information to foreign enemies of this Nation."
Attorneys for Williams, who paid money to see the film, say the defendants should be declared unlawful benefactors of the pilfered Snowden files and thus be derived of any profits derived through Citizenfour. According to the complaint, the film has grossed more than $2.1 million as of this week, two months after first opening at select theatres. Since then, the film has been shortlisted for consideration ahead of next year's Academy Awards in the category of best documentary feature.
When contacted by Hollywood Reporter, Participant Media — a co-defendant in the case — declined to comment.
Meanwhile, no fewer than two other films concerning the NSA leaker are currently in the works. Last month, The Guardian confirmed that actor Joseph Gordon-Levitt has accepted the role of Snowden in a forthcoming feature being directed by veteran filmmaker Oliver Stone.
"This is one of the greatest stories of our time," Stone said previously of the Snowden saga.
You can share this story on social media: