Flying pigsh*t! Drone catches Smithfield pork farms spraying animal waste into air (VIDEO)
Thousands of huge pig farms in N. Carolina are spraying untreated animal waste into the air and contaminating neighboring communities, Mark Devries, who shot a shocking aerial video with a spy drone, told RT.
This environmental problem "has for some reason received very little attention in the American press," says documentary filmmaker and activist Mark Devries, whose drone captured footage of cesspools at over 2,000 industrial pork factory farms in the US state.
"These pools are near people's homes, people's schools, people's neighborhoods," Devries said in an interview Monday to RT. "And in order to get rid of these giant open-air cesspools, the manure is actually sprayed into the air with giant spraying devices, which causes it to turn into a fine mist."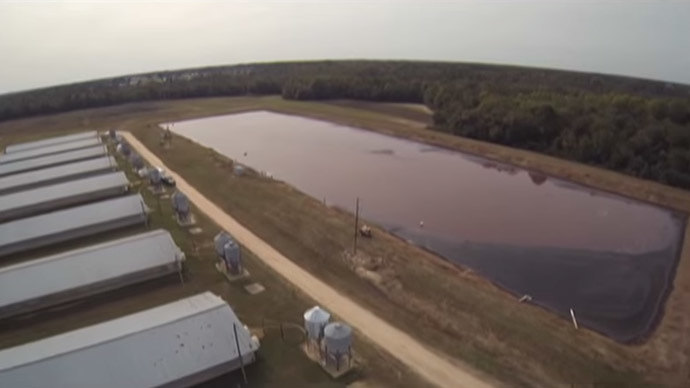 Spread by the wind later on, the mist containing pig waste "has serious health impacts and also deeply affects people's lives," he said. There have been studies investigating respiratory diseases, such as childhood asthma, which is quite common in the area, along with blood pressure problems.
"You think it's raining," Elsie Herring, a woman who lives near a pig farm said in the video. "We don't open the doors or the windows, but the odor still comes in. It takes your breath away."
"I was shocked," Devries commented in his video. "Pig manure is fairly similar to human waste, so it would be similar to having a pit of untreated human sewage the size of several football fields out in the open – and in many cases, right in the vicinity of people's homes."
Describing the situation with air pollution, the chemicals and the smell as "lax," Devries said that North Carolina has a law that makes it more difficult for local residents to take the pig farms to court over the waste.
"The law is really acting on the side of these giant industrial pig farms, and the neighbors have very little – if any – reprieve," he said. "I hope that with my investigation and with others there will be more public discussion and thus more pressure on these corporations to change and improve their practices."
The drone video was released a few days ago, but there have already been some improvements, "both from environmental perspective and from an animal welfare perspective," Devries said.
He told RT that in recent years experts have reported fewer major cesspool spills, leaking manure into the ground. The animals' welfare also has improved, he said, with farms reportedly ending the practice of using so-called "gestation crates" for pregnant pigs, where they are kept in metal cages so small they can barely move for months.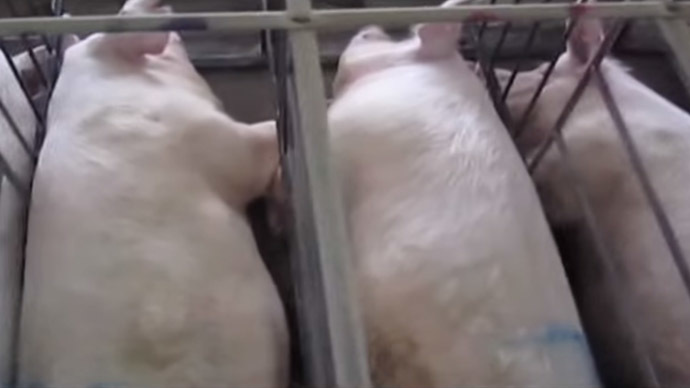 The owner of the farms in Devries' video, either directly or through contractors, is Smithfield Foods Corporation, the world's largest pork producer.
"On our farms we strive to be good neighbors and respect the rights and property of those who live near our operations," Kathleen Kirkham, a spokeswoman for Smithfield Foods, said in an emailed statement to the International Business Times. "We work closely with all of our farmers to meet strict environmental management policies that encourage continuous improvement and exceed most state and federal compliance standards."
Environmentalists and animal rights groups have long criticized the meat processing giant, and the Environmental Protection Agency (EPA) had a special campaign to improve conditions and reduce water pollution from its North Carolina and Virginia factory farms. According to Rolling Stone magazine, the company was fined $12.6 million for 6,900 violations of the Clean Water Act in Virginia in 1997, in the third-largest civil penalty in the history of the EPA.
You can share this story on social media: